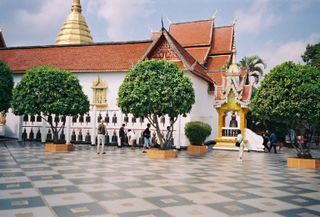 (Doi Suthep Temple, which overlooks Chiang Mai)
Tourists love to flock to Thailand, famous for its tourism, hospi.jpgtality and beautiful white sand beaches in the south. 
But many tourists go to Thailand and remain in the south, forgetting about exploring the north of the country!  How dare they?
In my opi.jpgnion, no visit to Thailand is complete without going to
Chiang Mai
, Thailand's northern capi.jpgtal. 
The city, with just under 200,000 inhabitants and a vibrant community of foreigners, has so much to do for the visitor that you can't possibly fit it all in. In fact, the first time I visited Chiang Mai, my planned 4-day visit ended up becoming a 3 week stay! (I just couldn't leave… too much to see and do)
Chiang Mai ("Walled City" in English) is home to over 30 ancient buddhist temples, the most famous being Doi Suthep, which is perched atop a mountain overlooking the city, 13 km from the city centre. 
If temples aren't your thing, check out either the famous night bazaar, or the Saturday or Sunday market. Ratchadamneon Road is the centre of activity in the evenings. 
There are countless festivals throughout the year, including the flower festival in February, and the city even hosts an annual cricket tournament every April. Every week you can catch Muay Thai boxing, and it's hard to miss the tasty local Thai cuisine. 
Take a ride in a tuk-tuk (a Thai-style taxi) and visit the Chiang Mai City Arts & Cultural Center. Register for a Thai cooking or jewelry making class, study and practice yoga, or go on an mountain trek, many of which are organized from the city.  
Chiang Mai, like most of Thailand, is very safe to visit, but I recommend learning about the numerous local customs before you go.  
Plan to visit for a few days, but you will likely remain longer – it's a hard place to leave!