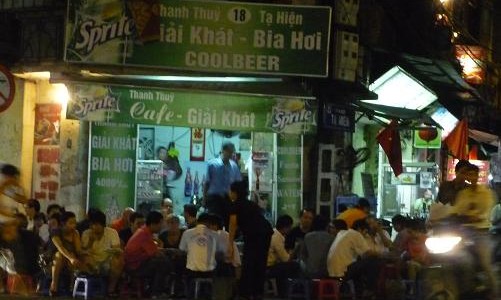 When traveling, I always find it best to eat where the locals eat and drink where the locals drink.  Sure the touristy places might be more accessible, cleaner and have staff more likely to speak your language, but the touristy places also offer a watered down version of local cuisine.  On a recent trip to Vietnam, I experienced an ultimate local institution serving drinks by the same name – Bia Hoi.
"Bia Hoi" roughly translates to "fresh beer," and it describes a locally-brewed, preservative-free beer served in small bars and at street corners.  Since it's preservative-free, the beer is brewed daily and delivered in kegs to local businesses.  It's very cheap, often served for about 20 American cents.  Most Bia Hoi joints also serve inexpensive street food to accompany the beer.  My first foray into the cuisine included something that, if I had to guess, was probably crispy pork fat rolled into a tube, served with a type of chili paste for dipping.  Delicious? Not entirely, but it was more than palatable and it sure was cheap.
Bia Hoi establishments typically consist of a tiny indoor space, more for storage and food preparation than for patrons.  The seating is almost entirely outside, but rather than chairs and tables, small plastic stools are strewn about and used for both sitting on and placing beers and food.  The little stools are packed tightly together, meaning that Bia Hoi customers will be rubbing shoulders all night.  The cramped atmosphere begets conversation, as patrons can't help but spill into each other's discussions.
Vietnam has tons of good food and drinks, ranging from upscale restaurants to traditional family-owned eateries, but for a truly authentic experience, sit down in the cozy confines of a Bia Hoi.  The beer's barely cold and the food's curious at best, but for a cheap and genuine evening surrounded by Vietnamese locals, nothing beats the Bia Hoi.