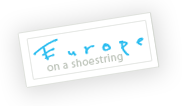 I previously wrote an article on my planned trip to Europe and someone left a comment requesting more information about cost estimates, so here goes…
Flights to Europe
Depending on where you want to start and end your trip from, you can expect to pay anything from R6000 return to R12000 for an economy class ticket. To check flights from Johannesburg, South Africa to anywhere in Europe/UK visit Travelstart.co.za to do a search.
Making your way around Europe – Eurorail (train), Eurolines (bus), Busabout (bus), air or packaged coach tour
Eurorail and Eurolines both offer travel passes that you can purchase via the web. These passes will enable you to travel for a set amount of days in a set amount of countries (depending on the pass you buy). Eurorail passes do cost more than Euroline passes, but Euroline coaches may not have a direct route to your destination city. *You can also buy tickets from specific train and bus operators direct – this may be cheaper (depending on where, how many, etc.
Busabout – also offers a coach service with 3 routes and passes that you purchase beforehand. You can also purchase a Flexi Pass at $549.00 (6 days of travel included) extra Flexi Days $59.00 each. *This option does work out more than Eurolines.
If you are planning to visit only a few cities and don't want to waste 4 to 10 hours travelling by train or bus, then you need to search for a low cost airline that will get you there.
Packaged tours. If you haven't travelled to Europe before, you might want to do a packaged tour to Europe and then, if you still have leave and the funds available, you can do a bit of Europe on your own. Packaged tours are great, as your accommodation and travel arrangements are taken care of – and all you need to do is enjoy and explore.
PS. Look out for more posts about my planned Europe trip and more travel tips in the next few weeks!