Really, have you ever slept on the floor of an airport because you missed a flight? I have.
We were meant to catch a flight from El Prat in Barcelona to Barajas in Madrid on Vueling.com and because of unforeseen circumstances (a lost wallet and an accident on the highway) we were 10 minutes too late to catch the close-off for ch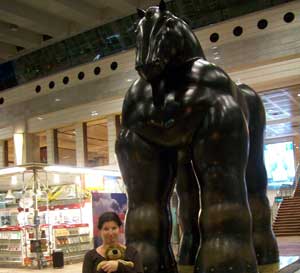 eck-in time.
We first booked alternative flights at the only internet point in one of the shops and then went to the terminal we needed to book into the following morning. Luckily there were one food shop open in the international terminal (not too far from the Vueling.com terminal) but… you can only eat that many snacks before you need to sleep.
Around 10 pm I was so tired and decided that I really am not going to sit up and wait till 5 am on a hard airport chair! I opened up my backpack and whipped out my sleepi.jpgng bag. I unceremoniously made a bed against the window between 2 trolleys. (There were about 10 other people also "nesting" for the night on chairs – and they stared and pointed at me – but when I woke up they were all having a nice little nap on the floor too!)
The next morning I felt like I haven't slept or showered in days, but at least the time flew by!