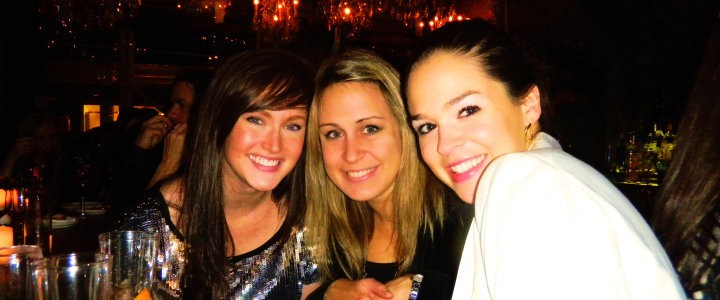 The 4-star restaurants… The buzzworthy Broadway shows… The unrivaled nightclubs… Big city life is exciting in theory until you realize you'll have to trade your apartment for a shoebox in order to afford any of it. Even if you're just visiting, a trip to New York can put a serious dent in your wallet.
Luckily, there are some free resources (I've included my favorites below) you can subscribe to that provide discounts to some of the best restaurants, services, shops and events around the city. All you have to do is sign up with a valid email address, and the deals will be delivered right to your inbox.
Trust me, your social life will thank you.
Blackboard Eats. BBE is a free e-mail and website delivering exclusive deals (usually 30% off) on NYC restaurants "handpicked by seasoned food editors." It features a well-rounded assortment of hot spots and hidden gems, and covers every type of cuisine. When you see a deal you like, simply click to receive a password that you'll give to your waiter and… voila! Great food at an even greater price.
To find awesome flights to New York go here.
Groupon. Groupon features a daily deal on the best stuff to do, see, eat, and buy in a variety of cities across the U.S. A minimum number of buyers is required to activate each deal, and once that number is reached, the deal becomes available for all who have purchased it. (Don't worry, you won't be charged if the deal falls through.) Recent offers include a one-hour massage for $45 (normally $90) and $18 for a sunset Statue of Liberty cruise ($36 value).
To find awesome flights to New York go here.
Gilt City. Find new exclusive local packages every week on this brand new site that captures the creme de la creme of the Big Apple and brings it to you for less. Try a personal trainer at 40% off, get your hair done at a top salon for half the price, or gain VIP access to a polo match in the Hamptons for a price you won't find anywhere else.
The Dame NYC. Not yet launched, this blog will come equipped with reader deals and discounts for girls night out-ings around the city, so you and the ladies can get together and gossip without going over budget. Email thedamenyc@gmail.com to put your name on the list.
Living Social. Promote this site's deals (ranging from comedy show tickets to rock climbing) and they'll reward you for it. Simply purchase one of their deeply discounted deals, share it with three eager friends (and get them to buy it), and your deal becomes free. Not bad, not bad at all!
Buy With Me. Like Groupon, this site leverages "power in numbers" to negotiate deals with local businesses. Want three spray tans for the price of one? How 'bout half off an eco-friendly cleaning service? As long as enough people are interested, you'll be livin' la vida thrifty.
Refinery 29. If you're a shop-o-holic with high-end taste, this hip online hub will be your safe haven. Their NYC newsletter not only keeps you up to date on the latest trends and store openings, but it offers goodie giveaways and provides exclusive discounts to coveted collections. Saving money has never been so stylish.