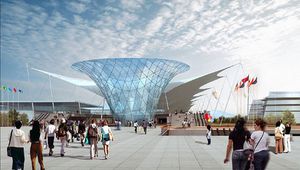 (photo courtesy of stefano meneghetti)
South Africa isn't the only nation hosting a large international event in 2010.
Shanghai will play host to the World Expo 2010, taking place May 1–October 31, 2010.
The theme of the 2010 Expo will be "Better City – Better Life." Planners anticipate that the Shanghai Expo will shatter the attendance records of any previous world fairs.
The World Expo, also known as World Fair, has been going on for close to 150 years. It is one of the three largest world events that occur, the other two being the Olympi.jpgc Games and the FIFA World Cup.
The primary attraction are the nation pavilions, which are created and hosted by the participating countries. You could say the World Expo is a unique way to experience many national cultures in one environment – like a world tour where all the countries of the world showcase themselves at one venue.
The last fair I attended was Expo '86, held in Vancouver. I was just a young child at the time, but I still have my passport from the Expo, which includes stamps from many of the pavillions.  The event left a lasting impression on me, and to this day many of the installations from the Expo remain in Vancouver.
The last world Expo took place in 2008 and was held in Zaragoza, Spain. Expo 2012 will be in Yeosu Korea. The first fair was in 1851 in London England.
Tickets are now available for sale, and cost roughly $20usd per day.