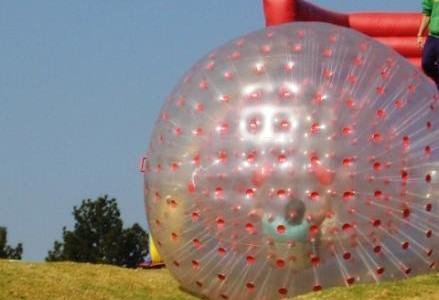 After weeks of grey skies and miserably cold weather Jozi's favourite commodity, sunshine, is back on the shelves – whooha! Winter's not nearly over, but anything above 15˚C is an excuse to head outdoors and catch some rays, so why not throw some insane family fun into the mix?
Owner of Action World at Jozi X, the first permanent inflatable action park in Jo'burg (if not Africa), Marco Caromba is so laid back, that 220V would likely do nothing more than make him blink. We are after all, talking about a man that needs serious thrills to get him up in the morning – like rap jumping off 24 storey buildings in Jozi, and sandboarding down 500ft mine dumps! If you're looking for creative ways to shorten your life span, check out Purerush Industries.
So, it's not surprising that Mr Endorphin came up with the idea of Jozi X and Action World. When it's complete, Jozi X will feature a beginner, intermediate and xtreme mountain and X-boarding tracks, a luge track, and a mini street circuit where speed freaks can come and commit suicide by skateboard. Not literally, but you get the drift – no pun intended.
In the meantime, Action World consists of 7 inflatable adventure structures – a trapeze, jungle swingz, tight rope walkz, krazy ladder, free klimbz and stunt mat – and is a great place to make a total ass of yourself with family and friends watching, for an entry fee of R120.00 p/person.
What's really cool about Action World adventure park (at least in summer) is its' barefoot, helmet and harness-free policy. Because all the obstacles and amusements are inflatable, and there are enormous krush kusions to fall on, you really have be Jonny or Bam to injure yourself here.
Depending on whether you're a wussy like me, or up for anything, you can spend a couple of hours, or the whole day here. If you think it looks like a kiddies play park, wait until you're 10m above the ground and see where your, 'Oh that's not scary, I can do that,' nerve went!
For an extra R80.00, go for a bounce in a zorb ball. The best way I can describe it is like when a huge wave dumps you at the seaside, and you get washing-machine-d in the surf until you're able to come up for air. It's insanely fun, and in summer, the Jozi X crew manning the zorb WILL throw water inside your ball before sending you down the 200m slope.
Depending on how many activities you try, and unless you were an Orangutan in your previous life, or have recently run away from the circus, you will have sore muscles for the next couple of days. But, you'll also have lots of laughs, face your fears, and get to act like a kid again. Guaranteed, you'll be back.