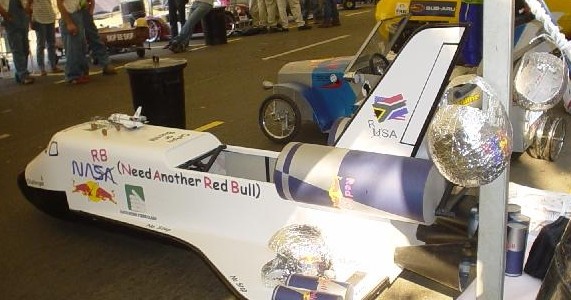 SA hasn't seen a Red Bull Box Cart Race since 2006, when 54 local backyard Ross Braun wannabe's, tore down Jan Smuts avenue in the nearest thing to a legal chop-shop car race that Jozi's ever seen.
The 4-year absence of this street race is surprising since the only thing South Africans love more than beer and sport is cars. When next you're in Jo'burg traffic, check out the ironing boards (wings), big bore and free flow exhausts, nitrous kits, spoilers, the 18" mags, and you'll know that virtually every guy in Jo'burg secretly believes he's Dominic Toretto, and could take Lewis Hamilton blindfolded.
Nowhere worships wheels more than Soweto, where this year's Red Bull Box Cart Race takes place on the 24th of September. Soweto's car culture is HUGE. Owning your own wheels, even a clapped-out jalopy, means you're going places – usually to the garage to check the petrol and fill up the oil.
On a drive through the township, there's nothing unusual about seeing a Merc CLS parked outside a shack, or a Range Rover Supersport, windows blacked-out and stereo pounding, cruisin' by to stares of admiration. Bottom line: if it's big, black, and blinged-up, it belongs in eKasi.
Incidentally, the 24th is also national Heritage Day, and Braai Day in South Africa, and the only thing smokin' more than the rubber of the 70 teams entered in this year's event, will be the chisa nyamas, roadside barbeques, and the wheels of the Gusheshe (BMW 325i) gangsta's, or townships' car spinners, gettin' the crowds high on eau de Goodyear.
To enter Red Bull's box cart race in Soweto, drivers need to be 16 years old, and aren't required to have a drivers licence (come to think of it, crash test dummies never are) to race a non-motorised cart, of their own design, on the downhill raceway that's being purpose built for the event.
Entry into the Red Bull cart race in Soweto is free for spectators, and teams who take a no-limits approach to cart design, creativity, and originality when dreaming up extreme contraptions to race. Points are also awarded for showmanship, and the fastest race time.
Usually dressed up crazier than their carts, drivers get just 1 shot, or push from their team mates, to successfully negotiate the high-speed criss-cross tracks and make it to the finish line, or, crash spectacularly into the straw bales, to the delight of the
+/- 25 000 crash-vultures, and racing die-hards that flock to watch this wild, whacked-out soap box race.
Soweto's car-crazy culture makes it an inspired venue for the 2010 Red Bull Box Cart Race. Besides the fun of watching dozens of Tschops Sepuka hopefuls eat each other's dust, the bull is an auspicious animal in township culture.
Traditionally sacrificed on special occasions to invoke the blessings of the ancestors, this time, the bull (in this case a bright red one), will be more than happy to watch a couple of mortals fuel themselves with energy drinks and sacrifice themselves on the altar of speed and stupidity. Don't you dare miss it!
[boilerplate bytitle="Standard"]