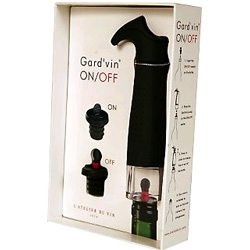 He may the hardest one in the family to buy for, but seriously, the guy has enough ties. Step up your gift giving game this year and check out some of these New York City stores, where you'll find original items your father will actually appreciate.
UNDER 50$
Gard'vin On/Off
conranusa.com
888 Broadway
Let him enjoy every last drop of his expertly acquired collection with a wine keeper that cleverly prevents oxidation. Your looks may have come from Mom, but he'll be the first to say you inherited his intelligence.
$32
Mo's Bacon Bars, Flying Chocolate Pig + Rogue Shakespeare Stout
vosgeschocolate.com
132 Spring Street (between Greene & Wooster)
Never tried bacon and chocolate together? Trust me, it's a no-fail combination. Add a Shakespeare Stout from this chic Soho store to the mix and Dad will have one savory Sunday to remember.
$42
$50-100
Brunch for Two at Buttermilk Channel
buttermilkchannelnyc.com
524 Court Street, Brooklyn
They say the way to a man's heart is through his stomach… Well, you'll definitely be Dad's favorite child after he downs a plate of fried pork chops and cheddar waffles at this Brooklyn bistro. (Sampling each one of the four different Bloody Mary's probably won't hurt either!)

Vintage Grooming Trio
johnvarvatos.com
122 Spring Street
His "pheromones are nature's perfume" philosophy is endearing, but not so "inviting" when it comes to summer barbecues and playing golf with the guys. Give his hygiene a seriously studly makeover with John Varvatos cologne, shampoo and aftershave.
$88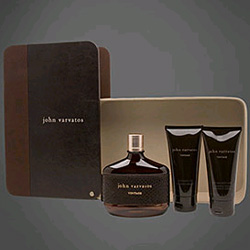 $100-200
Pro Bocce Set
dwr.com
408 West 14th Street
Ah, retirement… What to do with all that luxurious free time? Give Dad something fun to do with all his other bored buddies– like this classic yard game that will keep them entertained (and off Mom's back) for hours.
$170
Vintage Yankee Stadium Cuff Links
nytstore.com
Rest assured, Dad will think of you on every special occasion when he adorns himself with these cuff links, crafted from wooden seats salvaged from the stadium before the 1973 renovation.
$150
$200+
Magno Wooden Radio
momastore.org
11 West 53 Street
Warm his old school soul with a retro radio from the Museum of Modern Art's store. All it needs is 4 AA batteries so he doesn't have to mess with all this modern technological nonsense the kids are using these days.
$250
 To find awesome flights to New York go here.
Work Twill Haversack
jackspade.com
56 Greene Street
This hip (but masculine!) messenger bag will hold all Dad's daily necessities so he can put down that gnarled man purse (A.K.A. Mom's Macy's shopping bag) once and for all.
$295