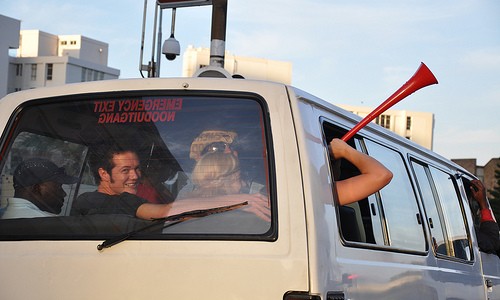 Last week, driving on the highway, attempting to violently overtake rude/loud/mole-woman from  the supermarket aisle, a series of stationed police vehicles had me fervently hit the breaks.
The traffic slowed, and I watched on as a halo of blue lights ceremoniously escorted an intercape bus down the N2, and into Cape Town.
Taking a moment to snap out of my rude/loud/mole-woman-motivated animosity, it dawned on  me – the World. Cup. Teams. Are. Arriving.
As cliche as it may be to read, it's been nothing but humbling to see Cape Town officially catch the Fifa fever. A rudely enormous vuvuzela is perched on the end of one of our (unmistakably-Cape Town) unfinished bridges; The V&A Waterfront has become magically furnished with a ferris wheel overnight; Beefcakes is now serving take-away burgers in football-themed boxes and Somerset Road's resident beggar has a little extra wind in his sails – now that a South African flag dances off the back of his  wheelchair.
And my personal favourite: the vuvuzela-armed beggars, with signs that hilariously read, "will blow for bucks".
There is a tangible excitement in the Cape-gale-force-air, since Mexico, our (or Bafana Bafana's) round one rivals, landed in the country.
Google hits are up on articles like "Drogba fractures arm" and "Africa's hopes lay on the shoulders of the Ivory Coast team".
Cape Town has armed itself with a free fan-walk (a treasure hunt of minstrel carnivals and grand parades, on the way to Greenpoint stadium) and the Cape Town International Airport has become a circus of football fanatic gear and camera flashes.
And in the wild West traffic it dawned on me, that The Mother City's become all a-glow, since our small democracy opened it's doors and laid out the red carpet to the world 🙂