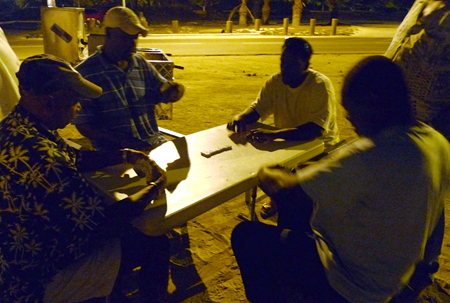 Most tourists who visit the Bahamas comes to the main island Nassau. The islands real name is New Providence but since the capi.jpgtal Nassau is here, that is the name that is used most of the time.
Nassau is a peculiar place and those who have been to other islands just shakes their heads and says "This is not the Bahamas". Nassau is the place where the huge cruise ships come in, it's where the giant hotel complex Atlantis with casino and water slides is and it's what most visitors experience when they come to the Bahamas.
But there is some local feeling left for those who try. I skipped the taxi and took the local bus (jitney) from my hotel at Cable Beach to the Fish Fry at Arawak Cay. Fish Fry is a little area with several small restaurants that serve fried and grilled fresh fish and conch (the national dish of the Bahamas which tastes like squid). Both tourists and locals come here and many of the places are just tiny shacks where you sit on chairs outside on the footpath.
But before I had chosen a restaurant I realised that I didn't have any cash. Since the closest ATM is downtown I started walking in that direction. There is a nice little path along the water and although I've heard many people say that downtown Nassau is not safe my experience was the opposite.
I met only locals along the way and most of them greeted me with a happy hello, the kids were curious and the grownups polite. Many cars were parked facing the water and in them sat young couples or group of friends watching the sunset to the soundtrack of the car stereo. On the many of the benches older men were sitting down and one of them who had greeted me on the way to the town yelled "That was quick" on my way back. At a small table a group of grandfather types were busy with a game of Dominos. The ones who were not playing were happy to chat with me about the rules, who was winning and who was "cheating".
It's too bad that most visitors just zoom by this area in their taxis taking them from one hotel to another.