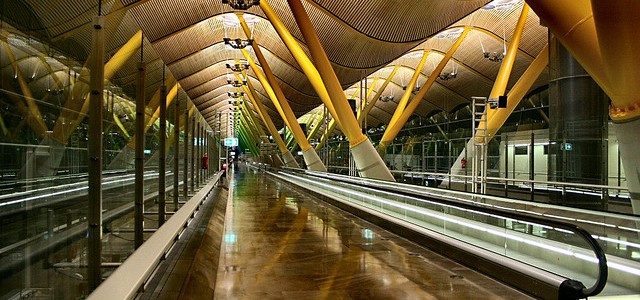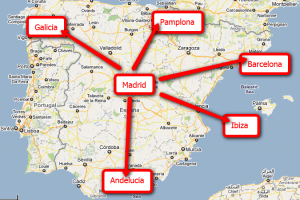 Flights to Madrid have always been popular as it's Spain's largest and capital city, situated right in the heart of the country. While it may not be everyone's idea of the best city in the country to visit, it is great for one reason – it's location. Madrid has excellent connections to the rest of the cities & regions in Spain by road, rail and air; the country is also home to the world's busiest air traffic route. It's easy to reach the pilgrimage North-West region of Galicia, the hilly Basque country & Pamplona, fashion capital Barcelona, party capital Ibiza and the popular province of Andalusia, famous for it's beaches, pubs, mountain villages and ski-slopes.
But what's the best way to get to Spain? There are 3 types of routes you can use: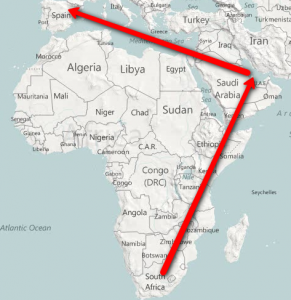 1. Flights to Madrid – the long way round via Dubai or Doha
The cheap flights to Madrid generally will be on airlines like Emirates & Qatar Airways, both of which fly via their home cities in the Middle East – Dubai and Doha respectively. Flying on these airlines might involve long journeys (about 19 hours each way), but they are two of the world's most praised airlines for comfort and service with excellent entertainment and food on board as well. They also have very affordable business class – in comparison to other airlines. These routes allow you to break your journey in Dubai or Doha as well, allowing you to take in world class shopping, adventure and luxury on your break.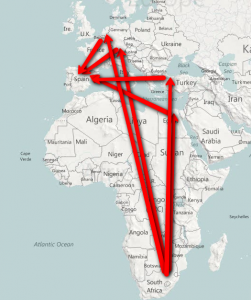 2. Flights to Madrid – via Europe or Africa
Flights to Madrid on this route often can be cheap flights too, but you may also be looking at them being that slight bit more than airlines like Emirates and Qatar. On this route you will be looking at flights on Egyptair via Cairo, Lufthansa via Frankfurt, KLM via Amsterdam, Turkish via Istanbul or Swiss via Zurich, all of these are great airlines and good value for money, each have decent and modern airports (even Cairo's airport is new) and have a decent standard of service and food. We've heard good feedback regarding each of them. Journey times on this route will be between 13 and 18 hours each way. Many of these airlines will allow you to stop over on certain fares in the cities you travel via, so it's worth making a real holiday of it and checking out the sights on the stops en route. They tend to have specials every now and then, so keep a look out for these by signing up to a travel newsletter.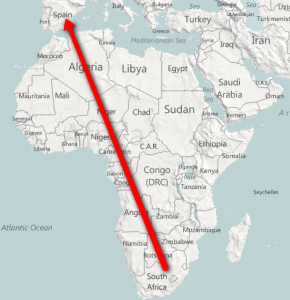 3. Flights to Madrid – direct
There's only one airline which offers flights to Madrid direct and that's Iberia Airlines of Spain – the Spanish national carrier. Now while they may not yet have been heralded as the ambassadors of quality in-flight experience, they do offer that excellent advantage of cutting the journey time down dramatically. Total journey time is around 10 hours which makes all the difference when you're stuck in a pressurised capsule for ages, unable to move properly! All Iberia flights and those with partner airlines use terminal 4 at Madrid Barajas Airport, making changing planes and checking in a bit smoother in that you don't have to schlep from terminal to terminal.
I can highly recommend Spain as a diverse, intriguing and vibrant destination with excellent scenery, food and history.
feature image from lowfatbrains on Flickr
[boilerplate bytitle="Standard"]