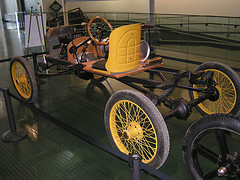 An exhibition to celebrate the centenary of one of the world's oldest cars, the Model T Ford, is underway at the James Hall Museum of Transport. Head of institute at the museum, Peter Hall, says it will showcase the historic vehicle. "We will be exhibiting seven models of the Ford Model T design, together with an array of early photographs on motoring experiences during the pi.jpgoneering years and interesting advertising material of the period".
The Ford Model T exhibition runs until Wednesday, 31 December. It will celebrate the life and times of the iconic Ford Model T, from its humble beginnings and rise in status across the world. The history of car developer Henry Ford and his group, the Ford Motor Company – which still makes cars today – will also be explored, with an emphasis on the Model T.
The iconic Ford Model T is one of the world's most well-known cars. First built by the Ford Motor Company in 1908, it was the world's first affordable motor vehicle at a time when motoring was becoming popular. In 33 years of production, about 15,5 million Model Ts were sold worldwide. It is estimated that at one point, half of all the world's cars were Model Ts. A flex fuel vehicle, it could run on petrol and grain alcohol or ethanol. In those early days, petrol was not widely available, so the idea was that farmers could distil fuel from the corn they grew.
During World War 1 thousands of Model T cars and ambulances were used on the European battlefields by the Allied forces. Some 5 745 Model T military ambulances were built, with most sent over to Europe. Production of the Model T ended in March 1927. Its replacement, the Model A, went into production in October 1927 as a 1928 model.
The exhibition opens at 9am each day and closes at 5pm. For more information about the exhibition, contact Peter Hall on 011 435 9485/6/7. The Centenary of Ford Model T exhibition is on at the James Hall Transport Museum, at Pioneer Park, on Rosettenville Road, La Rochelle, in the south of Joburg. It runs from 19 July to 31 December, and entrance is free. However, donations are welcome.
Info credit to Joburg.org.za and image credit to dave_7