[Updated: 18 October 2018]
Grab some friends, jump in the car and head out on an adventure. These are fun day trips which require little to no planning and can double as weekend escapes depending on how much time you have. Escape the city to the rugged beauty of the West Coast, frolic in the flowers, get your paleontologist on, or do a leisurely wine tour of the Hemel en Aarde Valley.
There's so much on offer less than 2 hours from the Mother City.
West Coast Wanderer
Into the blue at West Coast National Park
The beautiful blue waters of the lagoon will tempt you to swim even in winter!
Entrance fee: Normal rates – R55 per adult, R28 per child / During flower season (August and September) – R77 per adult, R39 per child
Drive time: 1 hour and 5 minutes from Cape Town
You Might Also Like:
Picnic by the Cape Columbine lighthouse
This picturesque beacon was named after a wooden ship "Columbine" which was wrecked on the shore near here long before the lighthouse was built. It is also one of four lighthouses in South Africa which offer overnight accommodation on site. The popular Titiesbaai Rest camp nearby offers campsites on the beach. No electricity.
Find the lighthouse in Columbine Nature Reserve just a 5km drive from Paternoster.
Entrance fee: R21 per adult, R14 per child
Drive time: 2 hours from Cape Town
Contact: 022 752 2705
Also read:
Enjoy a proper West Coast seafood braai at die Strandloper in Langebaan
An entire experience involving woodfired bread and so much crayfish you won't believe your eyes. Either go for a leisurely lunch or dinner under the stars. Booking is essential.
Drive time: 1 hour 30 minutes from Cape Town
Contact: 022 772 2490
Also see:
Budding paleontologists will love visiting the West Coast Fossil Park
See a fur seal skull, the remains of sabre tooth cats and short-necked giraffes. This is the only place in the world where you'll find so many five-million-year-old fossils. Free for kids under 5 years old. Phone ahead if visiting on a weekend as opening times depend on the season.
Drive time: 1 hour and a half from Cape Town
Contact: 022 766 1606
Frolic among the flowers in August and September
The best place to start your botanical bonanza is the West Coast National Park.
Entrance fee: R77 per adult, R39 per child
Drive time: 1 hour and 5 minutes from Cape Town
Relax in peaceful Paternoster
Walk on the beach, eat a leisurely lunch in the garden at the Noisy Oyster and feel the workweek stress evaporate.
Those in search of a more rambunctious time can stop in for a klippies and cola at the Panty Bar found at the Paternoster Hotel where frilly drawers of all kinds hang from the ceiling.
Drive time: 1 hour and 45 minutes
Overberg overtures
Greyton is a beautiful town tucked in the Overberg perfect for hiking, relaxing and eating in pastoral settings.
If you have the chance to stay at the Post House, however, if it's a day trip you're after then a cosy lunch at the pub is called for.
The more active will love the many hikes and trail runs available. It is a day's hike over the mountain to McGregor, another Overberg gem.
Drive time to Greyton: 1 hour and 40 minutes from Cape Town
Also read:
Wine and song in the Hemel en Aarde Valley
In the gorgeous valley behind Hermanus take a drive to the various wine farms and drink in the view along with the quality wine.
Drive time: 1 hour and 40 minutes from Cape Town
La Vierge Restaurant: 028 313 2007
Creation Wines: 028 212 1107
Newton Johnson Wines: 028 312 3862
Also see: Undiscovered Wine Farms around Cape Town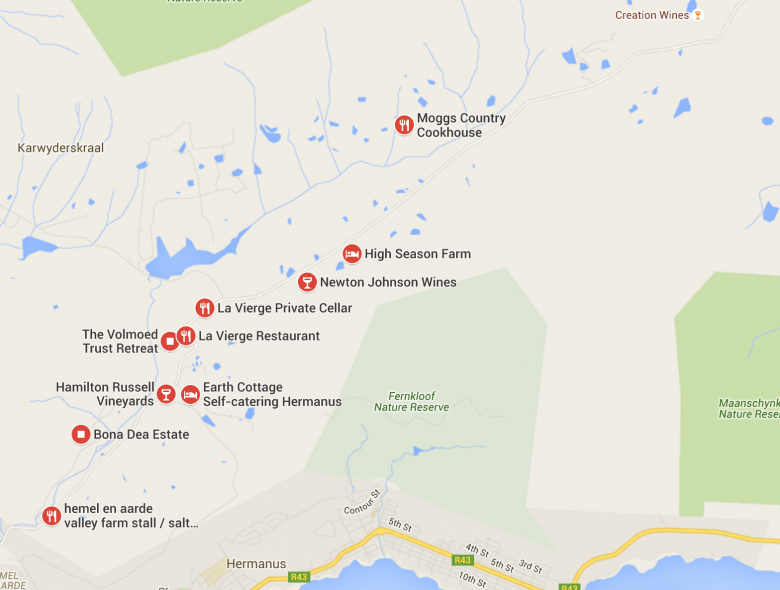 History and Spice in Paarl
Ingest some fascinating history at the Paarl Museum before a chocolate and fine brandy tasting at the KWV Emporium. Not only that but the Emporium has a selection of celebrated South African artworks on the walls of the tasting room.
For a day trip which combines educational elements, kids will love the interactive exhibits upstairs at the Taal Museum. Combine this with ice cream at Spice Route, a trip to Fairview to visit the goats, finishing off with a sunset view at the Taal Monument.
The Taal Museum
11 Pastorie Avenue, Paarl
021 872 3441
The KWV Wine Emporium, Kohler Street, Suider Paarl, Cape Winelands.
021 807 3007 / 021 807 3008
Spice Route
Suid Agter Paarl Road
021 863 5200
Fairview Wine and Cheese
Suid Agter Paarl Road
021 863 2450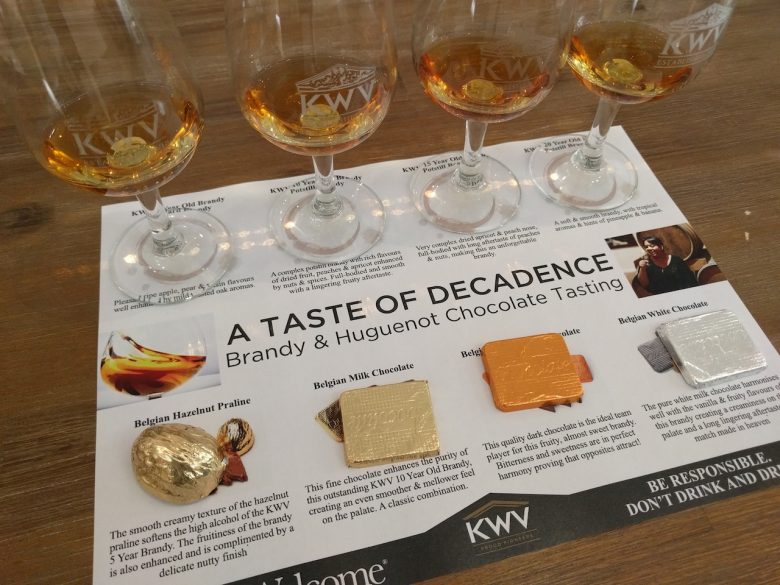 Brandy lovers should also pay a visit to the Zomerlust Gastehuis opposite where the old Paarl Wine and Brandy Company used to be. It is here that legend has it the director had a pipe made under the road to take the brandy from the distillery to a tap in his study. There is a bar named "die Kraan" here now in honour of the legend. The gardens are quite lovely too, especially in Summer and are well worth a visit after lunch.
Drive time: 50 minutes from Cape Town
Contact: 021 872 2117
You Might Also Like: Fun, Affordable & Unique Tours To Do From Cape Town
And if you want to go a little further, check out these 5 Unforgettable Road Trip Routes in South Africa
We love to hear about our readers' discoveries. Share your favourite day trips from Cape Town in the comments section below. 
Find your flight to Cape Town with Emirates, Thomas Cook, Kulula, Flysafair and more at Travelstart!
And be sure to sign up for our newsletter to get the latest travel articles and flight specials sent straight to your inbox!