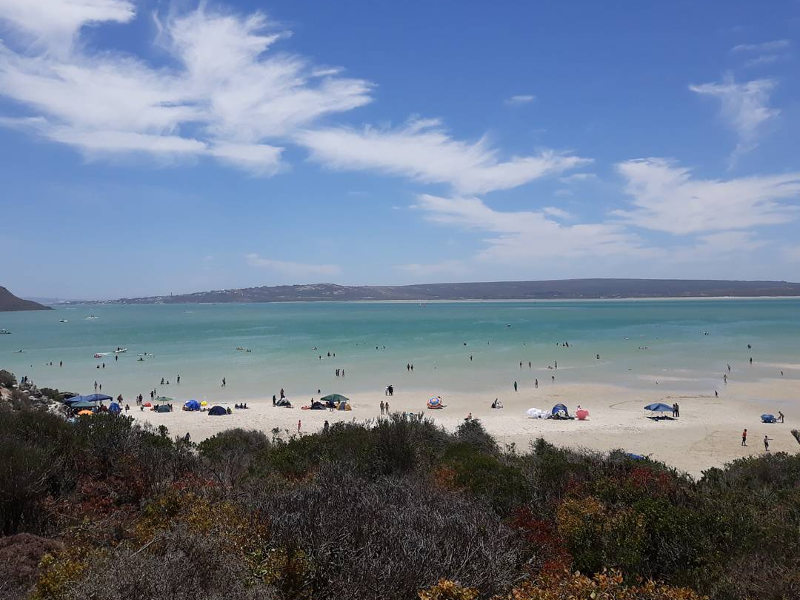 On a scenic drive from Cape Town up to the West Coast, you'll find some of the best views in the world. The West Coast displays glorious unspoiled natural treasures, humble fishing villages, beckoning beaches and captivating cultural experiences amongst other unique gems. A trip along the West Coast offers an authentic feel of the Cape. With so many gems to see and encounter, you are sure to have one of a one-of-a-kind experience venturing up the West Coast. The best part about these West Coast gems is the freedom to explore at your own pace!
Here are some West Coast gems to consider exploring while venturing along this beautiful coastline.
Paternoster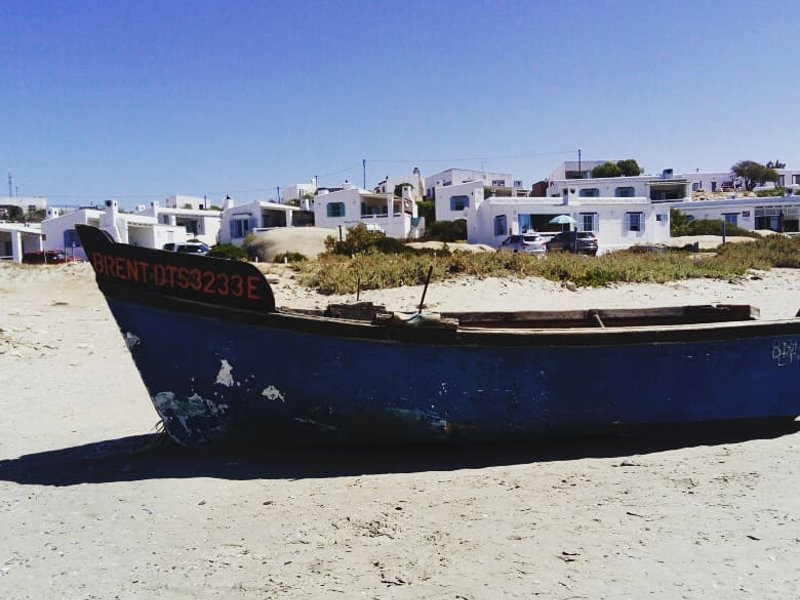 One of the oldest fishing villages on the West Coast in the Western Cape, Paternoster is an oil painting come to life. The laid-back town is a dream tourist destination which affords city dwellers the much-needed calm with its pristine beaches. This little town is dressed up with rustic white houses, and buttermilk beach sand with dense fynbos contrasting the minimalistic ambiance of the fishing village.  Embrace the local fisherman culture on the little village's beach. In traditional colourful boats, fishermen beach and sell their catch of the day. Paternoster has amazing restaurants serving the best cuisine ranging from seafood to lamb shank. Tourists can enjoy activities such as kite surfing, snorkeling, cycling, kayaking, and hiking.
Things to do:
Stone Fish Studio
This fantastic art studio and gallery is a great attraction to be captivated by Paternoster. It showcases fine art by amazingly talented artists in the Western Cape. Visitors may take part in fun workshops hosted by well-known artists.
Cape Columbine Lighthouse 
Phenomenal views of the fishing village can be gazed at from the Cape Columbine Lighthouse. Take in the sights of the out-of-this-world Britannia reef and the Atlantic Ocean.
Drikus Horse Trails
Partake in calming horse rides on Paternoster's beaches. Daily horse rides on the pristine beaches can be enjoyed at your own pace.
Panty Bar – Paternoster Hotel
Renowned for its quirky Panty Bar, the Paternoster Hotel has an interesting history as it once served as a bank, church, school, library, and jail. Go visit the bar for the interesting garments hanging from the ceiling, and leave something behind – if you dare, ladies!
Accommodation:
Paternoster Hotel
Address: St. Augustine Road, Paternoster, 7381
The charming Paternoster Hotel is a great choice for accommodation while staying in this lovely fishing village. Paternoster Hotel's relaxed and friendly atmosphere makes for a much-needed break from the city life. The hotel has 10 en-suite rooms as well as one self-catering house. Facilities include a braai/barbeque, indoor fireplace, Wi-Fi, a restaurant and parking on the premises.
Mosselbank B&B
Address: 1 Trappiesklip Street, Mosselbank, Paternoster, 7381
Mosselbank B&B is situated 100m from the pristine beach in Paternoster. Guests can expect stylish rooms which cater for the ultimate comfort and pleasure. Facilities include an indoor fireplace, DSTV and laundry amenities.
Paternoster Lodge
Address: 64 St. Augustine Road, Paternoster
You can find the stunning 4-star accommodation in the breathtaking fishing village of Paternoster. This fine establishment boasts 180-degree views of the Atlantic Ocean and buttermilk sands. Paternoster Lodge is great for conferences and wedding receptions. Facilities include an indoor fireplace, conference room, a restaurant, and pub.
Restaurants:
The Noisy Oyster
Address: 62 St. Augustine Road, Paternoster, 7381
Type of Cuisine: The Noisy Oyster serves modern South African cuisine, including delectable seafood, pizzas, and steak.
Operating Hours:
Monday – Tuesday: Closed
Wednesday – Saturday: 12 pm – 3 pm, 6 pm – 9 pm
Sunday: 12pm – 3pm
Voorstrandt Restaurant
Address: Paternoster, 7381
Type of Cuisine: The menu at Voorstrandt Restaurant boasts delicious fish dishes, including Malay seafood curry, seafood platters, fresh crayfish (during crayfish season). There are also great menu options for the meat lovers and vegetarians.
Operating Hours:
Monday – Thursday: 11 am – 8 pm
Friday – Saturday: 11 am – 8 pm
Sunday: 11 am – 8 pm
Darling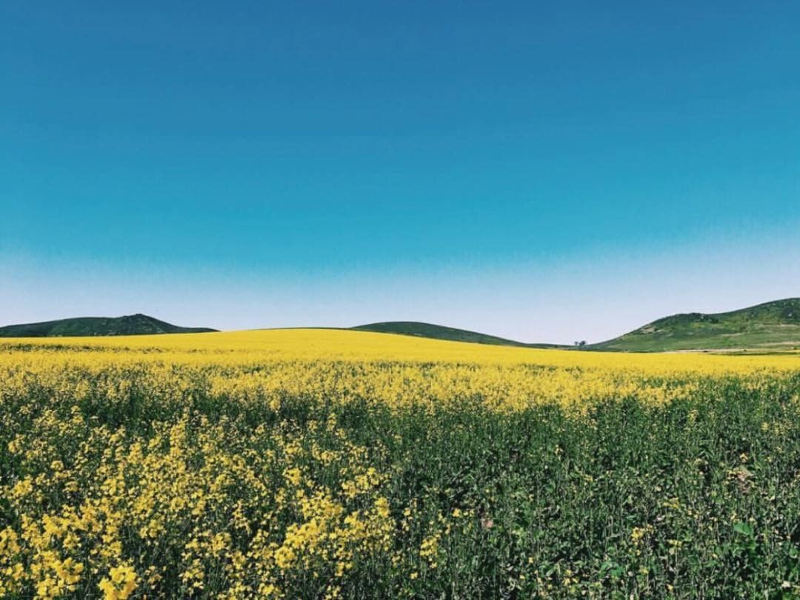 This beautiful small town on the West Coast is a 1-hour drive from Cape Town. The town of Darling is known for having the most captivating wildflowers, Tannie Evita Bezuidenhout (South African satirist Pieter-Dirk Uys), and the annual festival Rocking the Daisies. The town is abounding with activities that will leave you culturally enriched and fulfilled with the Wild Flower Region ambiance. This laid-back town instills a longing for the simple things in life!
Things to do:
Evita se Perron
This unique cabaret theatre was established by Evita Bezuidenhout aka Pieter Dirk Uys, renowned South African satirist. Evita se Perron is a space for visitors to grab some hearty food and to indulge in the phenomenal theatre that will cause you to equally laugh and cry.
Darling Museum
A trip to the Darling Museum will reveal all of the town's gems. Bear witness to the Darling lifestyle and how the village has grown since 1853. The museum features Victorian and Edwardian interiors and a special section honouring the San and Khoi people of Southern Africa with traditional huts, hunting weapons and literature.
Groote Post Winery
Situated in a mesmerising valley, Groote Post Winery offers exquisite views! Enjoy a day of wine tasting. Dating as far back as 1706, Groote Post Winery is home to many National Monuments, including the Manor House and cellar.
Darling Brewing Tap Room
Darling Brew Tasteroom & Brewery offers a day of incredible experiences! It is one beer tasting journey you simply cannot forget. Mouthwatering beers on tap await. Come thirsty!
Accommodation:
Daisy Darling B&B
Address: 9 Main Street, Darling, 7345
Located in the fun and quirky Swartland Village of Darling, this beautiful guest house has amazing accommodation for you to unwind at. The walls are dressed with local artist's incredible work. Daisy Darling B&B is a definite must to check out while visiting the town of Darling. Facilities include a swimming pool, Wi-Fi an indoor fireplace and garage parking.
Burgherspost Wine Estate
Address: Mamreweg, Darling, 7345
Nestled in the Darling Wine Route, Burgherspost Wine Estate has enviable views at the foot of the Dassenberg Granite Hill. Immersed in nature, your taste buds are spoiled for choice at the private wine cellar located on the estate. Burgherspost Wine Estate even boasts a private game reserve.
The Granary Petite Hotel
Address: Mamreweg, Darling, 7345
Located in the mesmerising town of Darling, The Granary Petite Hotel is stunningly decorated with incredible comfort for your stay. It is located centrally to many attractions in the exciting town. You'll be happy to know that the hotel is pet-friendly so you can bring along your furry friends while discovering the beautiful gems of Darling. Facilities include an airport shuttle, parking on premises, a restaurant, DSTV and a garden.
Restaurants:
Bistro Seven
Address: 7 Main Street, Darling, 7345
Type of Cuisine: The Bistro Seven includes delectable dishes such as chicken schnitzel, chicken and butternut curry, Malay beef curry, deep fried calamari, braised lamb shank and the scrumptious surf and turf (sirloin and calamari strips).
Operating Hours:
Monday: 11 am – 11:59 am
Tuesday: Closed
Wednesday – Saturday: 11 am – 11: 59 pm
Sunday: 12pm – 3pm
Groote Post Restaurant
Address: Darlings, Hill Street, Darling, 7345
Type of Cuisine: Groote Post Restaurant's menu changes daily, you could expect dishes such as penne served with creamy basil pesto, slow roast pork belly, and lamb paprikash.
Operating Hours:
Monday – Friday: 8 am – 5 pm
Saturday – Sunday: 10 am – 4 pm
Evita se Perron
Address: 8 Arcadia Street, Darling, 7345
Type of Cuisine: Evita se Perron serves a locally themed menu with dishes such as bobotie, boerewors roll with tomato smoor, fried hake, chicken wraps, and burgers. Don't forget to ask the waiter for the meal of the day!
Operating Hours:
Monday: 9 am – 1 pm
Tuesday – Sunday: 9 am – 4 pm
Jacobsbaai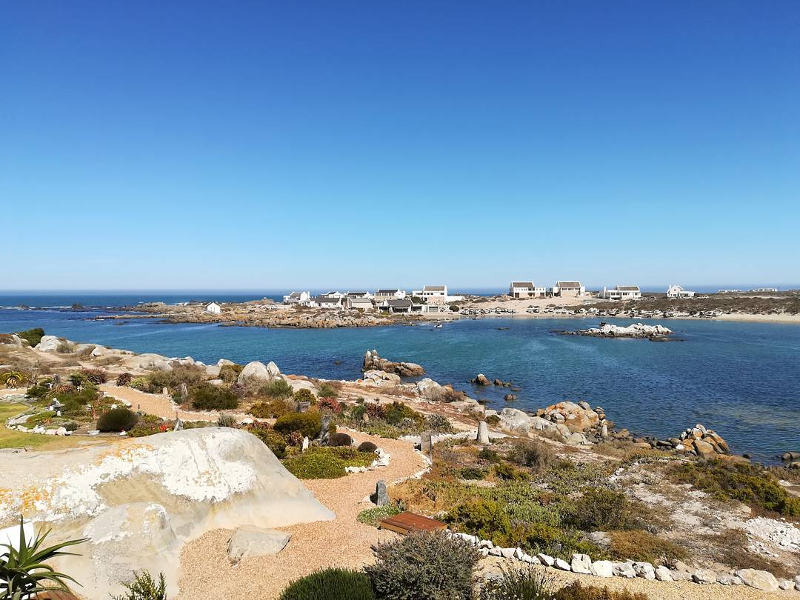 Originally founded on the farmland known as 109 Jacobsbaai, the small town offers the ideal getaway for serenity and a laidback vacation. This West Coast gem has 7 different bays with a thrilling wildlife such as steenbok, tortoise and various rare bird species. Jacobsbaai offers an amazing itinerary to consider such as mountain biking, fishing, bird watching, crayfish diving (you'll need a permit), kayaking, whale watching and dolphin spotting.
Things to do:
Pixie and Fairy Village – Jacobsbaai Backpackers
Fairy and Pixie Village (inspired by books, pictures, and movies based on fairies and pixies) is a special place to encounter. This dream-like village rivals scenes from the renowned movie, Hook. Allow your imagination to run free as you embrace this one-of-a-kind village in Jacobsbaai.
Platklip
Platklip in Jacobsbaai is known for being a great fishing spot. For those that would like to try their hand at catching an incredible kabeljou, Platklip would be the ideal spot to venture to.
Tooth Rock
Located at the water's edge, here you'll find a crayfish paradise. Before venturing out for a lucky catch, you will need a permit to dive for crayfish. November to mid-April is the crayfish season.
ART Retreat B&B
If you're hoping for some much-needed downtime while stimulating your creative side then the Art Retreat B&B is the ideal getaway. The B&B guests have access to art therapy and can set up art lessons and diving trips for its guests.
Accommodation:
Klokkiebosch Guesthouse
Address: 14 Korhaan Avenue, Jacobsbaai, 7395
Located on the shores of Smalbaai, Klokkiebosch Guesthouse has the mesmerising comfort to be soaked in as you retire from the bustling city life in this little town. Guests can take in the sea view from their room. Facilities include an indoor fireplace, braai/barbecue, shared lounge, free parking, and Wi-Fi.
Baviana Beach Lodge
Address: 18 Baviaantjie Bend, Jacobs Bay
Baviana Beach Lodge is a 4-star accommodation at the heart of Jacobsbaai. Here you'll find a combination of self-catering and guest houses facilities. Enjoy beautiful sunsets from this amazing West Coast gem. You are sure to return to this fine accommodation as you experience the homely service catering to your vacation needs. Facilities include a braai/barbeque area, indoor fireplace, Wi-Fi, DSTV and secure on-site parking.
Kanoentjie
Address: 14 Mauritz Road, Jacobs Bay 7379
Kanoentjie boasts exquisite sea views and is sure to get you feeling relaxed in this laidback village. This self-catering accommodation is fully-equipped and can sleep two guests. You'll wake up to the fresh ocean breeze while gazing at the welcoming sea view flat on the west coast. Facilities include an outside braai/barbeque, DSTV, and double bed.
Restaurants:
Die Weskus Plek
Address: Beach Road, Jacobsbaai
Types of Cuisine: The restaurant serves scrumptious seafood dishes such as mussels, fish curry, smoked fish, and crayfish. Meat lovers can enjoy the tasty lamb stew.
Operating Hours:
8:30 am – 9 pm
Mamre
Nestled between Darling and Atlantis, the incredible town of Mamre is dazzled with old buildings and history to relish in. The palpable sense of community amongst the locals is something to marvel at in one of these West Coast gems. The rural charm can be seen with horses trotting freely and locals strolling to the church through the town's streets on Sundays. The main attraction in Mamre is the Moravian Mission Station located on the western side of the town which was established in 1808. Tourists can get involved with wine tasting and exquisite Cape cuisine in the small town. Once in Mamre, you should do the Heritage Walk which affords tourists the opportunity to divulge in a rich history dating back 300 years, when the Moravian Missionaries settled in this West Coast town.
Things to do:
Coffee Shop Tori Oso Geselshuisie
Get a taste of the town by visiting this one of a kind coffee shop. Young and old can enjoy this fine establishment. Tori Oso Geselshuisie is situated on the Werf in a historical building, the Ou Winkel.
Mamre Heritage Walk
Take a trip through Mamre's history by doing the Mamre heritage walk. You'll get to grasp the incredible heritage that permeates in the little town of Mamre. Take a stroll through Mamre's streets and travel back in time as you learn about how the Moravian Missionaries settled in this West Coast village.
Mamre Nature Garden
A beautiful ambiance of culture and a rich biodiversity captivates visitors who stumble across this beautiful Nature Garden. The Mamre Nature Garden includes the endangered Atlantis Sand Fynbos along with 234 other plant species.
Accommodation:
Twin Gables Guest House
Address: 8 Henning Huisen Street, Mamre
This family-run guest house provides the ultimate accommodation necessities during your stay in Mamre. Twin Gables Guest House is centrally located nearby the Swartland regions of Darling and Malmesbury, making it ideal to venture to nearby wine farms. With its stunning balcony view, guests can enjoy the welcoming tranquillity. Facilities include Wi-Fi, a conference centre, parking on premises and braai/barbeque.
West Coast Beaches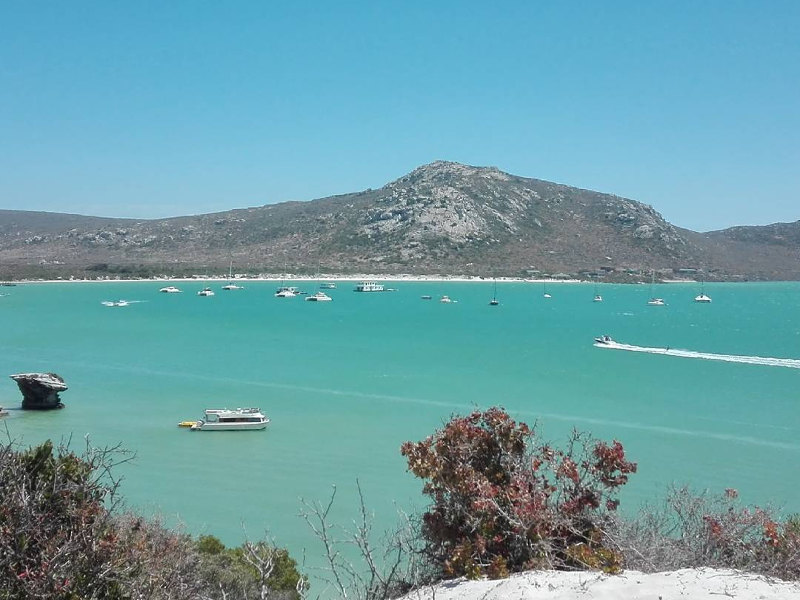 While venturing up the West Coast, do not forget to stop at some of its most exquisite beaches.
Jacobs Bay Beach – Jacobsbaai
Preekstoel Beach – Still Bay
Shelley Bay Beach – Shelley Point
Doringbaai Beach – Doringbaai
Pearl Bay Beach – Yzerfontein
Image Credit:
kelincleo via Instagram
iamleejacobs via Instagram
being_cindy via Instagram
vickigagiano via Instagram
jonnowalks via Instagram
munchma_quchi_official via Instagram
up_the_ant3 via Instagram