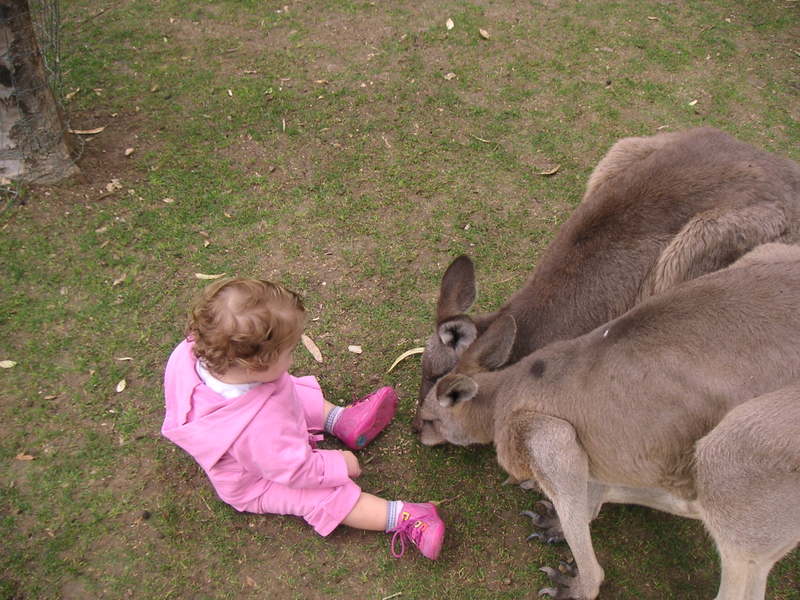 Have you ever dreamt of playing with kangaroos? Perhaps you will be surprised to hear that there is a kangaroo park, called Gan Guru, in northern Israel. (The name is a play on words with "gan", which means "park" in Hebrew and the Hebrew word for "kangaroo".)
In Gan Guru you can find several kinds of animals that normally live only in Australia. According to the information they give in the park, some of the species cannot be found anywhere else in the world outside Australia, except for in Gan Guru. There are different sorts of exotic parrots and bats in cages as well as impressive emus walking around or sitting on gigantic eggs. In another part of the park very cute koalas live. They sleep most of the day, hanging in a tree, but when they are fed with eucalyptus leaves, they wake up and show off.
After the koalas, you reach the most special part of Gan Guru, appreciated by both young and old, namely the kangaroo area. About twenty kangaroos walk around there freely and visitors are welcome to play with the jumpi.jpgng animals. They are very tame and are happy to be patted.
In the middle of the area, there is a machine for chewing gum that has been remodeled especially for the kangaroos. You put in a shekel and out comes kangaroo food. The animals eat directly from the visitors' hands. This is a very special experience that you remember for a long time.
After having patted the kangaroos, the children can play in a big playground, including several labyrinths, whereas the adults can look at souvenirs in the souvenir shop.
More information (in Hebrew) about Gan Guru can be found here.