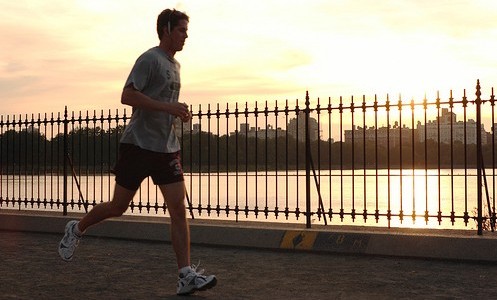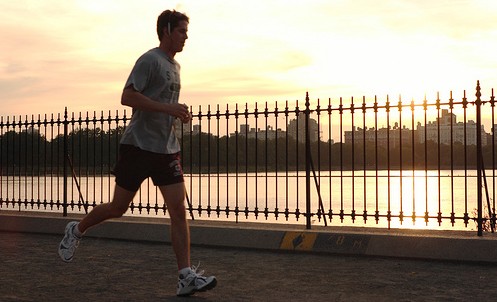 Picture from Dom Dada
Sure, you could cough up $100 a month to dote around a crowded gym. But who wants to be stuck inside when it's 80 degrees and sunny? There are plenty of options for staying active around the city that don't involve waiting in line for a treadmill or wiping other people's sweat marks from the seat. Here, some of the best ways to be active while enjoying the outdoors:
Tag along with a team. The beauty of New York is that you'll never have to search too far to find someone with a similar interest. Organizations like Zog Sports make it easy to get together with other active-minded people by arranging co-ed leagues in rugby, kickball, soccer, wiffle ball, softball, basketball, football, and dodgeball. They even host weekend whitewater rafting trips! Skill levels range from "extremely casual" to "competitive," so you never have to worry about humiliating yourself (although I'm not making any guarantees). And don't worry, if you can't coerce ten of your lazier friends into forming a team, sign up individually and they'll find a home for you. Prices average around $85/person for the season.
Row yourself around. Rowboat, kayak and paddeboat rentals are available in Brooklyn, Manhattan and Staten Island parks, so you can enjoy the backdrop while burning those biceps. Bonus: the scenery, the sweat, the sharing of paddle duty… perfect date material if you ask me. Price is $10-15/hour. Fore more info, click here.
To find awesome flights to New York go here.
Park it at the Piers. Chelsea Piers, that is. You could do a different activity every day of the week at this Hudson River sports haven, where they have rock climbing, sailing school, ice hockey, bowling, even a driving range over the water. During the summer months, no-membership-required yoga and spinning classes are often scheduled on the sundecks of the Chelsea Piers Health Club. For more info, visit chelseapiers.com.
Do the wheel deal. I believe you have to be certifiably insane to ride a bike through the streets of New York, but thankfully there are plenty of safe trails where you don't have to worry about dodging daydreaming pedestrians and hot-tempered taxi drivers. (You'd have never  guessed we're the 8th most bike-friendly city in the US, would you?) Map out a route on Ridethecity.com, or, if you're more of a thrill-seeker, head to Highbridge Park's mountain biking trails. Don't own a bike? Find a complete list of rental services here.
Play in Central Park. Tennis courts, baseball fields, lawn bowling, running clubs, swimming pools, Tai Chi classes, Frisbee competitions, beach volleyball games, rollerblading showdowns… You name it, it's here. And if none of that entices you, there are about 58 miles worth of pathways for you to simply stretch your legs.