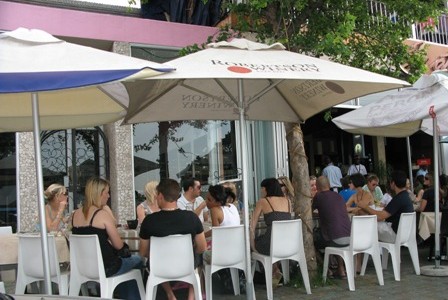 Greenside is a large residential suburb in Johannesburg. Ask for directions to Greenside though, and invariably you'll be directed to the triangle of Gleneagles, Greenway, and Braeside roads.
At the risk of starting a minor turf war with Greenside's trendy neighbouring suburb, Parktown, it's fair to say that this area is the rightful originator of Johannesburg's café culture.
Where Parktown does pavement couture, Greenside keeps its street cred with a vibrant and changeable mix of interior design shops, tattoo, and massage parlours.
The reason for this flux is simple. Make your name in Greenside, and almost guaranteed you can up sticks somewhere fancier (like Parktown) and double your prices.
For this reason, Greenside is always groovy, because this wedge of streets is where restaurateurs, designers, artists, and imagineers come to push the creative envelope.
Dining out in Greenside is a bit like attending a United Nations conference except you're handed a menu, instead of an agenda, and any dissenting point of view is likely to be over how to split the bill, not a prospective nuclear crisis.
Greek, Italian, Indian, Portuguese restaurants, urbeens (shebeen style restaurants outside of the townships), sushi bars, and burger joints, jostle happily for custom here, and if the live muso's don't appeal, turn your chair curbside and watch the parade of humanity.
Whether by fluke or by design, you'll find mostly restaurants on 1 side of the road, and interior design and décor shops on the other, particularly along Gleneagles road.
Like popular café culture venues the world over, and especially at weekends, and happy hour, parking's at premium. Getting dizzy driving around looking for a space to squeeze your cars tush is just part of the ritual of coming to Greenside.
Right now, my picks for the grooviest spots in Greenside are the Metro Asian Diner supper club, aka M.A.D., aka Tokyo Star, and the Odd Café.
The mood, music, and the food at M.A.D. is always superb, while Odd Café's menu will satisfy your palate, and their Anime/Graffitti-inspired art will provide food for thought.
Gotta go. I think I see an open parking space…