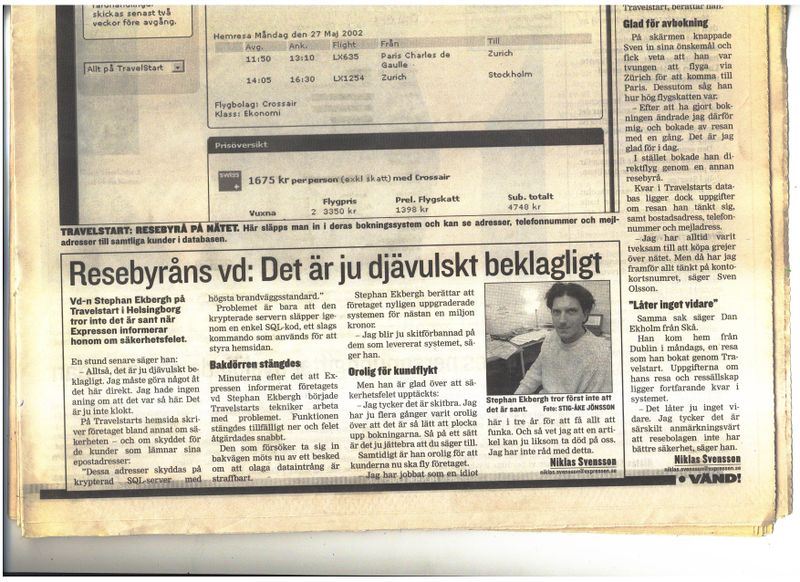 Back in
2002, coming out of some very complicated years, I was juggling for a deal with
Lastminute.com. I was doing final preparations for a presentation where
Travelstart were to take over Lastminutes business in Sweden. I was about to
leave our Swedish office for the airport when Expressen, one of Sweden's two
largest tabloids called me. I was always a sucker for publicity so I took the
call.
The
journalist, Niklas Svensson, went straight to his point. "Do you have a minute,
are you in front of your computer?" I said yes. "Then", he said "write the
following code in the email field on you website". I did what he told and came
straight into the details of a personal booking. I was flabbergasted and
chocked. "What do you say about THAT?" he said
"Well I'll
be damned" I said and could sense his enjoyment. He said "this is how easy your
website is hacked". I pointed out to him that they were doing something
criminal but he wouldn't listen.  
They are
going to write this up I thought. I'm not going to get the deal with
Lastminute. People will hate us and I will end up begging on street corners
after a ten-year jail sentence.
Then he
continued ranting about how lousy our website is and how easy all information
is accessible for everyone. I was soaking of sweat and said the only reasonable
thing I could think of that we would take care of the issue. I called our
supplier and told them about the "hole" and it was fixed immediately.
We also
found out that the only thing this hack could do was retrieving the last
booking made, but it was still bad enough. We made sure the person was
contacted immediately and he said couldn't travel anyway so he was happy we
called.
The next
day I was in London doing my presentation for Lastminute. My phone was ringing non-stop.
It was colleagues and other newspapers. Expressen made a big splash and blew up
the story on first page plus two whole pages inside the paper. With quotes
quote like "I´ll be damned" it made some good headline. Lucky for me the
"journalist" and his hacker friend they had hacked some other e commerce
websites as well so I wasn't alone.

The
following day we were expecting the business to die but to our surprise it
actually increased.  A customer
called one of my colleagues and said that he didn't know about us before the
article and he was sure we had fixed the problem by now. He started to use our
service from then on.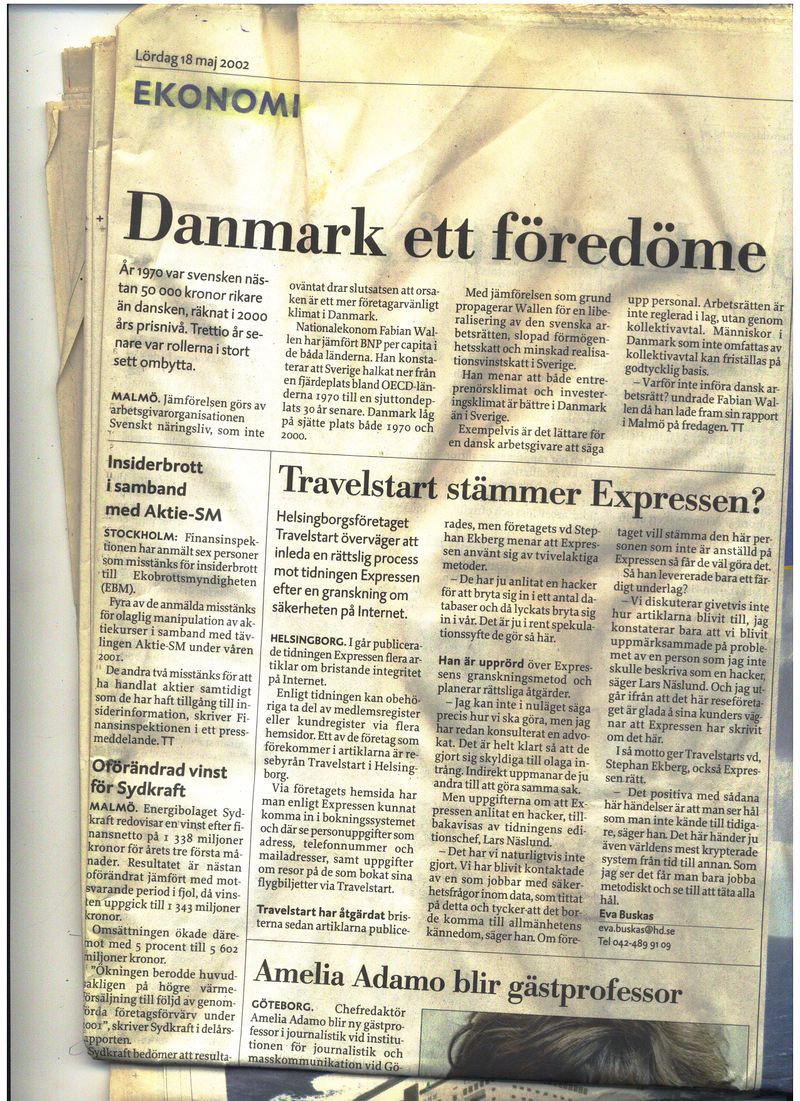 Some years
later that same journalist was charged for criminal activities and espionage and was fired for
hacking the intranet from one of the political parties in Sweden. It became a
big thing in media lets just say that Niklas Svensson got what he deserved.
Travelstart
got the deal with Lastminute, but I really lost my cool there for a while.