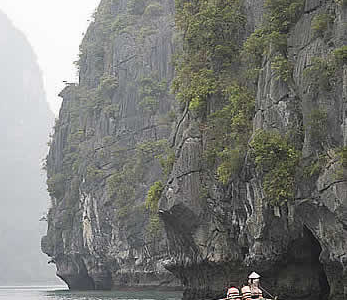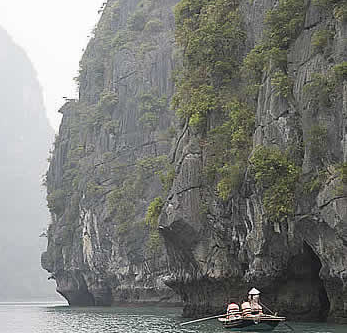 Believe it or not, I once spent the night on a wooden pirate junk in Halong Bay, one of Vietnam's (and the world's) World Heritage Sites and, more importantly, one of the most extraordinarily beautiful places in the world.
Halong Bay is a bumpy three and a half hour drive from Hanoi, the main city in the north of Vietnam. All cruises around the bay are organized by tour companies, but beware! We heard rumours of up to 600 boats  (or people, you know how rumours fly) following the same route through a highly-trafficked part of the bay. This would make the experience distinctly less magical. We were lucky enough to spend 24 hours on the Red Dragon Junk, part of the Indochina Junk Company who have special permission (for only three boats) to navigate a different route through the bay, and work hard to make their route, and their presence in this natural wonder, as eco-friendly as possible.
Our days on the Red Dragon were soaked in magic. From the moment we set sail on our all-wooden junk modeled on a Vietnamese pirate ship from the 17th century, we knew we were in for something special. As soon as we'd settled into our extremely comfortable cabin, with views over the bay on both sides, we were treated to a sumptuous seafood feast, and the food didn't stop coming for the next 24 hours. Course after course of shrimp, fish, scallops and squid, all beautifully prepared and presented. There was some time to relax after our lunch feast, on one of the three sun decks, gazing out over the extraordinary limestone karsts that rise up out of the aquamarine water like prehistoric monuments. There are 1969 of these karts in Halong Bay itself, 3000 in the greater area, and more than 89% of them are made from limestone. They range in height from 50m to 200m, but they are all – every one of them – completely awe-inspiring.
The afternoon hours were spent exploring a cave on one of the islands, in a beautifully lit cavern of stalactites and stalagmites, and then kayaking around the karsts themselves as the sun set. What an extraordinary hour: to get up close to these wonders of nature and drift among them as the sun begins to set… It's one of those unforgettable memories.
In fact, all of Halong Bay feels like an unforgettable memory. We visited a floating village, found out about the Indochina Junk's environmental campaign, "For a Green Halong Bay' and ate a whole lot more of that deliciously fresh seafood. But mainly we just marveled, nonstop and with no dilution, at the extraordinary beauty we found ourselves in.
Watch our Best Moment of the Day from Halong Bay here (but be warned – you'll want to leave immediately).
Photo: Just the Planet