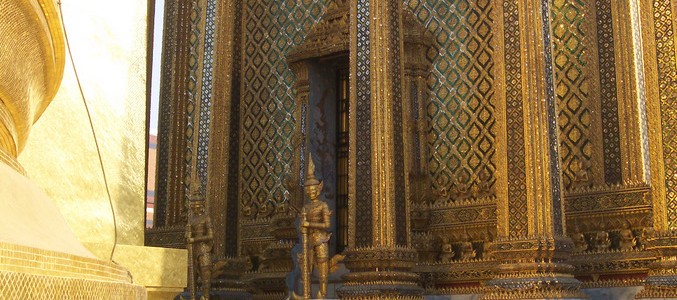 As someone who frequently visits Thailand, I feel compelled to write about the travel and security situation in the country. May's political events in Bangkok did cause several countries to impose temporary travel advisories for Thailand, Southeast Asia's most popular tourist destination.
Today life has resumed to normalcy in Bangkok, the vibrant capital city. From a recent statement made by the Tourism Authority of Thailand:
"The events of the past few weeks only took place in a few areas of the country. Major tourist destinations outside of Bangkok, and most of the city itself, were not affected. The things that make Thailand so appealing to visitors – our unique culture, natural attractions from mountains and beaches, incomparable value and the welcoming hospitality of Thai people – have not changed!"
Blogs and web forums can also be a very good source for the latest information on the ground, a place to discover the latest local knowledge if you will. I have read from numerous sources that the recent uprising in Bangkok took place in an isolated area, and that throughout most of the gigantic city life just went along as it does every other day.
When we see turmoil on the television, it's easy to lose track of the perspective on the ground. Thailand is of course a massive country, home to almost 70 million people and nearly 500,000 square kilometres of diverse terrain. The vast majority of the popular tourist destinations are throughout the south, the coastlines, and in the north (Chaing Mai and surrounding areas).
Another important thing for travellers to remember is that even though Thailand has a long history of political tension, these tensions are usually isolated and do not impact the risks or dangers experienced by tourists in the country. The tourism industry is the largest employer in Thailand, contributing 6.7% of GDP in 2007. From 2007 to 2009, roughly 14 million tourists visited the country each year. The importance of a healthy tourism industry for the country can not be overstated. And for this reason alone, it is a very safe place to travel, regardless of its political history. Every year Thailand ranks in the top 20 most visited countries on the planet, despite whatever the most recent political situation may be.
If you are concerned about visiting Thailand, I encourage you to do some research for yourself. Ask people you know who have recently been to Thailand for their assessment of the situation. Visits blogs of people who live there. (and don't forget to visit Travelstart's home page for the latest airfare specials)
For South Africans, I would also recommend visiting the following official web-sites:
Tourism Authority of Thailand
Department of Foreign Affairs, South Africa
Don't let the most recent headlines spoil your holiday plans. As I've mentioned before on this blog, we should always consider real threats to our safety when travelling, avoiding dangerous situations such as areas of flooding or armed conflict. But Thailand is a very tourist friendly and peaceful nation – the friendly faces of their nation await your arrival.

for the best flight deals to Thailand!