I have always been fascinated by the macabre preservation of the Pompeians (in Pompeii). As a child my parents supplied me with endless books much like a National Geographic for Kids – and even though I could not read, I was interested. When I first saw the photos of the white figures it was just beautiful, like somebody made statues and placed them for everyone to see. Then I started reading and realised these were people, buried under what Mt Vesuvius spewed.
In 1599 Pompeii and Herculaneum was discovered, (by D. Fontana) while digging a river flow path – unfortunately he did not realise the importance of his accidental discovery.
Both these towns (Pompeii and Herculaneum) are World Heritage Sites and visited by many travellers yearly.
Mt Vesuvius
This is an active volcanic mountain that is being monitored. It is now forms part of a large area that has been declared a national park.
You can walk up the mountain for spectacular photos of the towns below.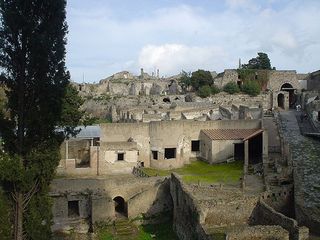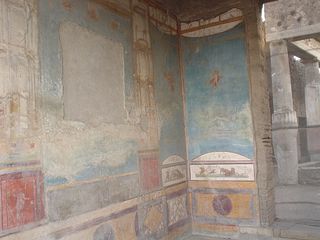 Photos of Pompeii by Lyng833
Pompeii
According to Wikipedia (see sources below), Pompeii was buried under 4 meters of volcanic debris in 79 AD. The town was rediscovered in 1748 (unearthed). The inhabitants that did not escape in time were buried alive, thus preserving them and the structures of the city.
Getting there:
Travel to Pompei Scavi train stop and walk to this ancient site.
What to see:
Intact houses and mural paintings
Porta Ercolano
Villa dei Misteri
Terme Stabiane
The cameo factory close by Pompeii
Herculaneum
Rediscovered in 1738 (unearthed) and located only 5 miles from the mountain that caused its demise. Herculaneum was buried under 20m of Mt Vesuvius' debris.
This town is to this day not fully excavated thus preserving many treasures from ancient times.
In the case of Herculaneum, skeletal remains were found that could be studied. Gaps within the sediment were also found and it is believed that these were left by the bodies that they entombed.
What to see:
Casa del Tramezzo di Legno
Casa del Nettuno ed Anfitrite
Casa del Atrio Mosaico
Naples
If you are interested in what was removed from both Herculaneum and Pompeii – Naples house many of the scrolls and relics at museums.
Sources: