The Tower of Pisa is definitely one of the world's most recognizable tourist attractions – but it is not the only attraction that Pisa has to offer (definitely worth adding into any itinerary tho).
Other attractions in Pisa include:
Ponte di Mezzo  – ancient bridge in Pisa
Domus Galileiana / House of Galileo – contains manuscripts by Galileo
Campo dei Miracoli (Field of Miracles) – Tower of Pisa, Duomo (cathedral) and the Baptistery
Sinopi.jpgas Museum – collection of fresco sketches
St Matthew National Museum – objects and artworks from the 12th century including sculptures, tapestries and paintings
Church of San Michele in Borgo – 13th century fresco of The Archangel, St Michael and marble crucifix by Nino Pisano
Church of San Martino – Guardi's fresco of the Madonna with Child
What to expect when you visit Campo dei Miracoli
Expect lots of tourists!
When you first enter the area around this square you will have to walk past many souvenir vendors and many tourists. If you have time, stop and ask prices for souvenirs you are interested in and then you can compare and buy on your way back from the sights.
The field or square offers more than just the 3 buildings (Tower, Duomo and Baptistery). The gate (Porta Nuova) you use to enter and the wall (where you can buy souvenirs from vendors) actually was built in 1155! It is part of the city's old medieval wall.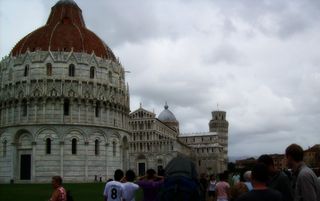 The 3 buildings on Campo dei Miracoli
The Baptistery has an amazing exterior (like the rest of the
buildings in the square)… but go look behind it… at the Porta del Leone
(Lion Gate), here the Roman gate to the city used to stand.
The Duomo (cathedral) is an impressive white building.  Even if you don't have time to go in (and pay the admission fee) study the doors by Pisano.
The Tower – pre book your tickets as you will definitely not want to join the queue. Pre book your tickets for the Tower of Pisa here. You will have to climb 293 steps to the top! To get a pi.jpgcture of only yourself "holding up" the tower is impossible.
Sources:
www.anitalyattraction.com