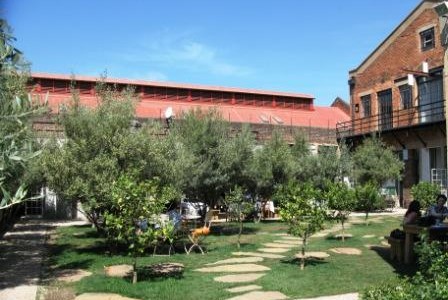 A recent visit to Arts on Main in Johannesburg left me unsure of this self-proclaimed hub for the creative arts.
The Jozi art warehouse is one of many projects attempting to kick start urban regeneration in Johannesburg, and reminded me of the now very popular Newtown precinct in its infancy – underwhelming, but promising.
Despite 3 different sets of directions on the Arts on Main website, and directions provided by Carmin (Garmin's female voice navigator), if you're unfamiliar with downtown Jo'burg, it's a tricky place to find.
Occupying about a quarter of a city block, Arts on Main is a living piece of Jo'burg history. In a city that's swiftly losing its heritage landmarks to neglect and lack of funding, Arts on Main's developer Jonathan Lieberman, is a mensch for reclaiming the former 1911 liquor warehouse, that later became the offices of master builder DF Corlett, Johannesburg's mayor from 1931-32, and bringing it back to life.
Arts on Main has attracted some big names on the local art scene: art book publisher and exhibition curator David Krut, the Goodman Gallery, Black Coffee couture, and the Seippel Gallery. All allegedly lured to the project by the presence of William Kentridge, South Africa's (living) equivalent of Leonardo da Vinci, who has a private studio at the precinct. I confess to leaving a nose print on every window from peering into studios in the hopes of seeing the great man at work.
Which is why Arts on Main disappointed me slightly. I never met, or saw, any artists. Perhaps I was naive in expecting galleries crowded with art lovers, print studios full of ink-smeared artists in the throes of their latest existential crisis, and snooty gallery owners who'd eye me up and down and then ignore me because I looked neither arty nor wealthy.
Instead, I met waiters, bored shop assistants, and gallery minders who appeared to know little about, or didn't care to share any insight into, the exhibitions they were baby sitting.
I visited on a Sunday, and the number of closed studios and deserted galleries seemed ironic. Especially since the restaurant courtyard, planted with olive and lemon trees, grew steadily busier, as families and creative types migrated into town to lunch, and soak up Jozi's spring sunshine.
Arts on Main, in the Maboneng Precinct, reveals Jozi's past and present sutured together. Buildings 'scarred' with old signage, rickety fire escapes, patchwork brick facades, and exposed rafters, tell a story of architectural survival. It's an inspired concept with great potential that I'll consider  returning to when the galleries shutters are open and the artists are in residence.
[boilerplate bytitle="Standard"]