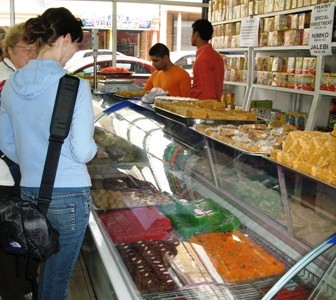 Fordsburg in Johannesburg is one of my favourite foodie destinations for a genuine adventure in urban Indo-Asian gastronomy.
To begin your Fordsburg food odyssey, park in Mint street (it looks like hell first thing in the morning) but your car will be safe. Then grab an Indian coffee, super-sweet and frothy, or a spicy Masala chai, from Swaruchi, a vegetarian restaurant on Main Road.
Fordsburg restaurant Swaruchi specialises in South and North Indian and Gujarati cuisine. Everything's fresh, prices are about a 1/3rd cheaper than other 'Indian' restaurants in Jozi, and there's simply no comparison where food quality's concerned.
On weekends there's a flea market next-door, open from about 10am until late, where you can bargain for electronics, clothes, audio-video, you name it, to blaring Bangrha tracks.
Keep following Mint Street, and about 2 blocks down from the Square, in a parking lot is an informal weekend-only vegetable market selling gourds, green mangos, fresh dhania (coriander/cilantro) and whatever else the enterprising micro-farmers from KwaZulu-Natal have in season. As you exit the market, fresh milk from a green Mozambican coconut, sipped through a straw, is a Fordsburg ritual you cannot forgo.
If you've a sweet tooth, Fordsburg's sweetmeat delis and confectionaries will have you in raptures – assuming you're not nut-allergic, dairy intolerant, or afraid of food that glows in the dark from an overdose of food colouring.
Catering to local Hindu and Muslim families, bakeries like Shalimar Delights, Homemade Delights, and Divine Confectionary, will have your cardiologist or personal trainer in hysterics, and you gorging yourself on jewel-coloured halwa, burfi, jalebi, and gulab jamun.
Shaheen Sweets and Bakery makes cream cakes that will instantly cause your diet to implode, as well as the freshest chilli-bites, pakoras, and proper potato samoosas I've eaten in ages.
Having eaten your own weight in Fordsburg street food, some spice shopping is in order. Take a stroll to the corner of Fountain and Crown Road, to Kwality Spice Works, arguably the best spice and Indian ingredient wholesaler in Jozi. If they don't have it, you're not supposed to eat it – capishe? Take advantage of the friendly, knowledgeable staff, and help yourself to the sample table and free recipes.
By which time Bismillah's should be open, just in time for lunch. The Pakistani food is as authentic as its Bollywood sitcom décor is kitsch. Don't be put off by the eclectic menu (they serve steaks, burgers and Chinese too), this is the real deal. Bear in mind Bismillah's is Halal, so no alcohol is served, as is the case in most Fordsburg restaurants.
If navigating Fordsburg alone doesn't appeal to you, Ishvara, a local Hindu, chef, and urban foodie, knows Fordsburg better than most, and will show you the spiritual side of this scrumptiously scruffy suburb on the south-western edge of Jozi.
[boilerplate bytitle="Standard"]