The plan is for a green World Cup, with as little waste generated as possible, and as small a carbon footprint as possible. Joburg is prepared, with several green projects already on the go, most notably the Bus Rapi.jpgd Transit system.
Bafana Bafana may be struggling, but the City of Johannesburg has set its sights on scoring big in the green camp, come the 2010 FIFA World Cup™.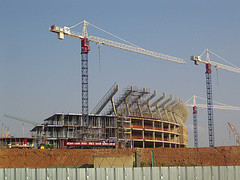 It not only aims to make the occasion one of the greenest global events ever, but to leave behind a green legacy benefiting its people.
Executive director for 2010 in the City, Sibongile Mazibuko said, "We are reflecting on what Germany did and how we can improve on this to make this [South African] World Cup a real green event."
Johannesburg is some way towards greening the city as part of its World Cup green legacy and has identified seven key legacy projects for this purpose.
These include rehabilitating the Klipriver and its tributaries – the eco-design for this is now completed; the first Bus Rapi.jpgd Transit (BRT) lanes in Pat Mbatha Drive are open; the tally for trees planted since July 2006 stands at over 70 000; and 35 of the 84 soccer fields have been greened in townships throughout the city.
Other legacy projects that will make a direct contribution to the Green Goal include the underground bin system for stadiums and the inner city and the rehabilitation of the Diepsloot hostel.
Mazibuko said the City was going for big impact projects. "The Klipspruit project will impact on the whole of Soweto, with over 120 kilometres of river rehabilitated." The Diepkloof hostel rehabilitation of water, sanitation and electricity networks will likewise have a snowball effect on overall environmental health, minimising water loss and sewage pollution into the Soweto river systems.
The overall scope of the Green Goal for South Africa will be huge and will include all stadiums and fan parks; the International Broadcast Centre; the transport system; accommodation and hospi.jpgtality venues; the FIFA and Local Organising Committee office events; and various carbon offset projects.
"It is important to note that projects will not be confined to host cities. We will spread the benefit to other parts of the country not directly benefiting from the event," Mazibuko concluded.
Info courtesy of Joburg.org.za and image from kopuklubira