It doesn't matter just how old you are, there is something for you at Gold Reef City – or so I found out…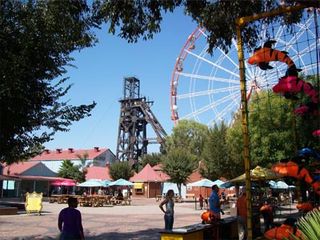 We arrived on a summer's morning at 9 am and the queues were already more than 50m long. It moved swiftly along, maybe it helped that there was clowns on stilts entertaining the waiting patrons.
Parking is free, but you will need to get there early if you don't want to park very far!
When we finally got to the front and got our tickets we made a bee-line for the first rides with a map in hand. (Maps of the entertainment park can be obtained free of charge at the gate after purchasing tickets.) Some of the rides had very long queues and we just skipped them to go to something else.

Tickets are 120 per person, but seniors get a discount and they have a special for families of 4.
When you finally get hungry from all the running around, you can sit down at a takeaway or proper restaurant.
We went to see the 4D movie and was handed a pair of 'goggles' and sat down for an unforgettable movie experience. The movie was about global warming and the impact it has on animals – from the animals' point of view. Imagine sitting in a tree like a monkey and a snake approaches and spi.jpgts at you… (you actually get sprayed with water from the seat in front of you) then your tree gets chopped down (and the seats all move as if you were falling) – or you are a fishy surrounded by eels!


Gold Reef City has a lot more to offer than rides. It has a 4D movie theatre (shows are free), a mini open air circus, slow train rides around the whole entertainment park, live entertainers (from high divers to singers) and lots of shops with African wares. The park management has done quite well in preserving the 'old' buildings and keepi.jpgng the gold rush feeling of old Joburg.