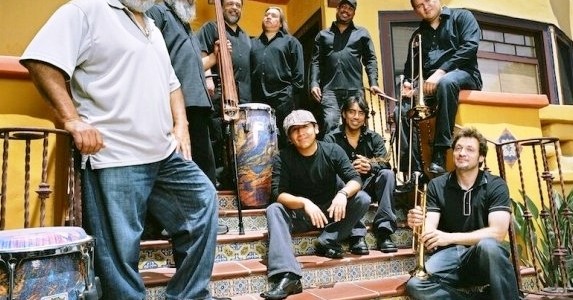 Now in its 11th year, the Standard Bank Joy of Jazz festival grooves onto the Mary Fitzgerald Square in Newtown from Thursday 26th until Saturday the 28th of August.
Whether you're a serious jazz junkie, or just looking for great live entertainment, and oodles of urban vibe, you shouldn't miss this jazz festival in Newtown.
Without question, Joy of Jazz is Jozi's largest and best jazz event of the year. I'd even dare argue it's better than the Cape Town International Jazz Festival, because despite a bigger and better line-up of artists every year, the festival has never lost its commitment to showcasing African artists, or its 'living room feel'.  By which, I mean the sense of intimacy and spontaneity of the artists' performances, and the impromptu unplugged sessions that materialise at secondary venues like the Market Theatre, Bassline, Sophiatown, and Nikki's Oasis.
The Standard Bank Joy of Jazz is so popular – drawing crowds of +20 000-music lovers – that the organisers have had no option but to go for 2 purpose-built venues – the Dinaledi stage and the Mbira stage. It's here; on the opening night of the festival, that you can catch the likes of local Western Cape songbird Auriol Hays (she is phenomenal), US Soul and R&B crooner Rahsaan Patterson, and SA-UK jazz maestro guitarist and vocalist, Brian Temba.
On the 27th and 28th, Lalah Hathaway, and later, multi-Grammy winning trumpeter Chris Botti take to the Dinaledi stage. Both are gorgeous to look at and über-talented to boot, so if you're looking for slick, world class performances, get your buns into a seat here quick-quick before the tickets are all sold out.
Personally, I plan to be at the Mbira stage, to be swept away by poly-instrumental musician/producer Sipho 'Hotstix' Mabusa, followed by Malian vocal-volcano, songstress Oumou Sangare. Sangare sings Wassoulou music, a genre of West African traditional pop music (sic), typically performed by women, and dealing with women's issues.
Muddling your senses and making you wish you could hear in colour and see sound, is percussion wizard Poncho Sanchez, whose fiery, technically stunning performances will have you on your feet, and hypnotised by his voodoo melange of bebop, salsa, swing, jazz, and Afro-Cuban rhythms, the likes of which you've never heard before.  Both Oumou and Poncho appear again on Saturday – so make a plan to see these unique performers at Joy of Jazz in Jozi.
Other international musicians to look forward to include critically acclaimed composer/producer/saxophonist Ravi Coltrane, at the Bassline jazz club on Friday and Saturday night; and Grammy nominated songstress Stacey Kent, who will be joined by Standard Bank's Young Jazz Artist for 2010, South African-born opera/jazz singer Melanie Scholtz.
Oozing jazz melodies, the Joy of Jazz festival is the place to mellow out at the end of August. All-night restaurants, bars, and clubs are an added bonus in this chilled-out, cosmopolitan corner of Jozi, so get down to Newtown, and get ready to jazz it up.