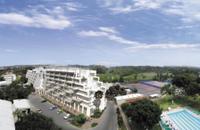 In the center of Israel, close to Tel Aviv and the international Ben Gurion Airport, you can find Kfar Hamaccabiah, like a green island. In the Kfar Hamaccabiah area there is a five-star hotel with a convention center, a country club of first class and much more.
For anyone who wants to be close to the metropolis Tel Aviv, but, at the same time, be able to breathe fresh air, go for a swim in the swimming pool and rest next to palm trees, I can highly recommend the hotel at Kfar Hamaccabiah while visiting Israel. The hotel is designed in a modern way, with a spacious lobby, a very nice restaurant with a bar and 260 rooms and suites of highest quality, with room service day and night.
Kfar Hamaccabiah is also a very suitable alternative for conferences, conventions, meetings and other get-togethers. In Kfar Hamaccabiah there are 25 halls of different sizes, where you can arrange events for eight to eighty participants. In total, there is enough room for more than one thousand people at once and often several events are organized at the same time. There might be a financial convention in one hall, a wedding in an adjacent room and a political meeting in a third hall.
Whether you come to Kfar Hamaccabiah for business or pleasure, you can take advantage of the exclusive country club in the area. There are five swimming pools, of which two are inside and heated, whereas the other three are outside, open during the warm period of the year. There is also a very modern and well-equipped fitness center and a large number of tennis and squash courts.
To sum up, for your next vacation or your next conference, you are highly recommended to choose Kfar Hamaccabiah. You will not be disappointed!
More information about Kfar Hamaccabiah can be found here.