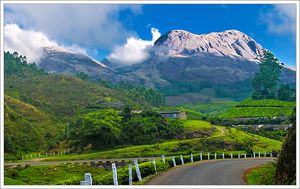 Kerala is one of India's most special states. Founded quite recently, in 1956, today Kerala is extremely popular with tourists from around the world.
It's so popular in fact that National Geographic Traveler magazine has named it one of the "ten paradises of the world."  High praise indeed! This is a relatively new designation – as recently as the 1980's, travellers hadn't even heard of Kerala. It used to be well off the beaten track for travellers in India.
What's the attraction to Kerala?  Well, there are countless reasons.  First and foremost is its natural beauty, located on the lush and tropi.jpgcal Malabar Coast. It's home to nearly 10,000 square kilometres of forest, and 1/4 of India's plant species. It's considered the global ayurveda capi.jpgtal, a popular form of traditional medicine. The state also has the highest literacy rate in all of India and one of India's highest standards of living.
Kerala is also well-known for its ecotourism initiatives, and its unique cultural traditions.  Some popular attractions include the hill stations of Munnar (photo), Nelliampathi, and Ponmudi. There are numerous national parks and wildlife sanctuaries to explore, including Periyar and Eravikulam. Heritage sites in the region include the Mattancherry Palace, and the Padmanabhapuram Palace. Shoppers should be sure to hit the cities of Kochi and Thiruvananthapuram, and take in the traditional theatre and musical performances.
A good friend of mine from Canada is originally from Kerala. He returns to visit his family there, perhaps once every one or two years. Whenever he describes Kerala to me, he always uses the word 'special.'   Some places we travel truly are special. Most who have been, seem to agree that Kerala is one of those special places.
(photo of Munnar Hill Station courtesy of kcbimal)