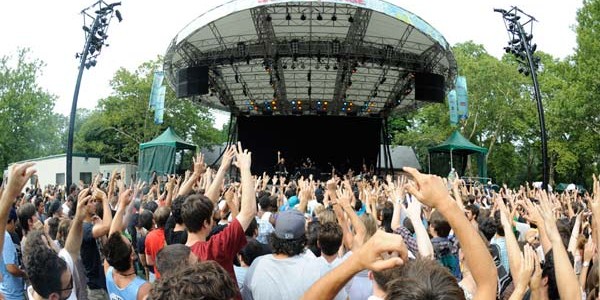 One of my favorite parts about summer in New York (aside from NOT going to the Hamptons) is the plethora of outdoor concerts. Whatever your taste in music– jazz, hip-hop, indie, top 40 pop (by the way, who IS this Justin Bieber kid and when can his career crash and burn?)– you can find a venue that is sure to accommodate. Here are a some I've been to, and a few more I hope to check out soon.
To find awesome flights to New York go here.
Central Park SummerStage
SummerStage, a program of City Parks Foundation, presents performances of contemporary, traditional, and emerging acts for FREE  a few times a week. Offering an array of cultures and genres, the series kicks off June 1st with one of my personal faves, smokey jazz songstress, Melody Gardot. Best of all, the shows take place in the heart of Central Park, so you can get your fix of free tunes and fresh air in one dose.
Click here for the complete lineup.
The Beach @ Governor's Island
If you're the guy friends turn to when they want to know what's hot (or  what's about to be), The Beach is the venue for you. A four-minute ferry ride from the southern tip of Manhattan will plop you off on Governor's Island in the New York Harbor, where you'll catch some of the hippest acts along with a stunning evening view of the city. Highlights of this year's lineup include the buzzed about folk rock band, Grizzly Bear, She & Him (featuring indie darling Zooey Deschanel), and Grammy-nominated British songwriter/rapper/fashion designer, M.I.A. Prices range from FREE to $65.
Click here for the complete lineup.
Celebrate Brooklyn!
Hop on the F train and arrive in no time (or at least in under 30 minutes) to Prospect Park's Celebrate Brooklyn! Originally launched in the 70's to bring people back to the neighborhood (now flourishing) after years of neglect, Celebrate Brooklyn! is one of New York City's longest running, FREE, outdoor performing arts festivals.  The acts are reflective of the borough's diversity, ranging from world renowned choreographers and cutting-edge musicians to spoken word theater and silent film screenings. The Opening Night Gala on June 9th will feature Brooklyn's own Norah Jones, who will be honored for her artistic achievement.
Click here for the complete lineup.
River to River Festival
You can't miss this performing arts festival– literally. The FREE season-long buffet of cultural and artistic diversity pops up in a variety of public venues around Downtown New York – from from the Hudson River to the East River. So if you're in the mood to be entertained, and not particularly picky about the means, head below Chambers Street any day of the week. You could  stumble upon local teens competing for a professional Fox Trot title, the genre-defying Bang on a Can band, or Jamaica's famous Rastafarian preacher, Burning Spear, among other eclectic acts.
Click here for a complete lineup.
Williamsburg Waterfront
The community and some pretty hip local politicians came to the rescue of this year's Waterfront concert series in Brooklyn. It originated just four years ago as a pool party at McCarren Park, but moved in 2009 to East River State Park to accommodate construction on the "Depression-era" swimming spot… and it was unknown for a while whether it would return. Logistics aside, non-profit Open Space Alliance of North Brooklyn managed to bring in some heavy hitting acts, including Weezer, Modest Mouse, Nas, and Keane. Tickets range from $30-54. As for the pool parties, they're set to start up again, too– so don't forget your Banana Boat and floaties.
Click here for a complete lineup.