Liliesleaf Farm, home of the ANC leadership in the early 1960s and the scene of the arrest of the Rivonia trialists, is opening as a museum.
Liliesleaf farmhouse and the outbuildings in Rivonia, where the trialists were arrested and Mandela lived for a time, have been restored, and has been opened as a museum since 9 June 2008. Two new buildings on the site, the Liberation Centre and the Liliesleaf Resource Centre, have been built, and together with the new buildings, it promises to be an exciting addition to the city's museums.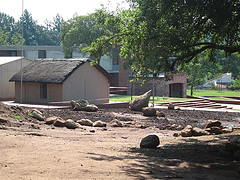 The South African Communist Party had bought Liliesleaf farm, some 25 kilometres from the CBD, in 1961 to use as its headquarters. In those days it was a quiet, 28-acre smallholding on the outskirts of Johannesburg.
The top leadership of the ANC were arrested at Liliesleaf on 11 July 1963. The apartheid government was smug – they had seized and put away for life the top echelons of the African National Congress, who they had caught hatching Operation Mayibuye, the plan to switch to violence to overthrow apartheid.
On hearing that they had got life sentences, Denis Goldberg shouted: "Life! Life is wonderful!" And life was wonderful on that day, 12 July 1963, because the Rivonia trialists had expected the death penalty, but Judge Quartus de Wet handed down four life sentences to each of the men instead.
Eight of the 10 trialists were sentenced to life, while two – Lionel "Rusty" Bernstein and James Kantor – were acquitted. Kantor had been arrested a month after the Liliesleaf raid.
It meant that they would live, but spend up to 27 years of their lives in jail, not seeing their children grow up, not seeing their wives struggling to hold things together without their husbands, or dealing with harassment by the security police or imprisonment themselves, sometimes with their children.
There are only four of the original eight jailed trialists still alive – Nelson Mandela, Denis Goldberg, Ahmed Kathrada and Andrew Mlangeni. Govan Mbeki, Walter Sisulu, Elias Motsoaledi and Raymond Mhlaba have died.
Mandela is about to turn 90, Goldberg is 74, Kathrada is 78, and Mlangeni is 81 years old.
Entrance to the site is at 7 George Street, Rivonia, or Winston Avenue for buses. Tickets are R45 for adults and R30 for seniors and children. Liliesleaf will be open from 8am to 6pm every day, from 9 June. Phone Liliesleaf on 011 803 7882/3/4 for more information.
Info courtesy of Joburg.org.za and image by LJGravely