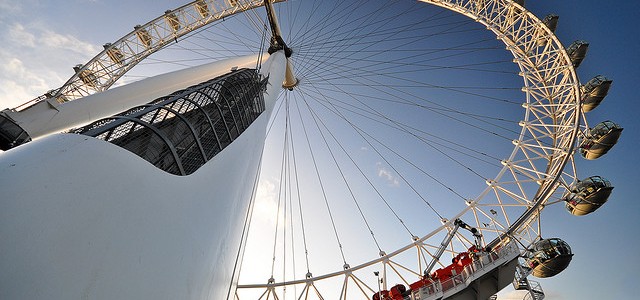 Many iconic buildings make up the London skyline – Big Ben, The Gherkin, the dome of St. Paul's Cathedral, London Bridge, and also a very large wheel – the world's largest observation wheel to be precise.
The London Eye was designed by architects David Marks and Julia Barfield and has been slowly revolving (one full circle takes 30 minutes) since March 2000, making this year its 10th anniversary. There are lots of lovely facts and figures about The London Eye – it can carry 800 passengers on a rotation – the equivalent of 11 double-decker buses. There are 32 capsules for each of London's boroughs but they are numbered up to 33 as unlucky number 13 was left out (no-one wants to be in an unlucky capsule 145 metres above London).
At £17.95 a trip on the all-seeing eye is not cheap but it is has become a must-do for visitors to London (an average of 3.5 million visitors per year), last year there were 433 weddings and 34 proposals on St.Valentine's Day this year. On a clear day you can see for 25 miles (40km) from the top of the Eye.
Kate Moss, another London treasure, has allegedly been on the London Eye 25 times but even the Croydon supermodel is outdone by American actress Jessica Alba who has been round 31 times.
If you are unfortunate enough to plan a trip on the London Eye on one of the city's not infrequent cloudy days, there is plenty to do in the area whilst you wait for the sky to clear. Stroll down to the South Bank where there is a fantastic book market right under Waterloo Bridge, it says open until about 7pm and has a superb range of antique and second-hand books. The Tate Modern is further along the river – it's free entry into the permanent exhibitions and you never know what you will find in the cavernous turbine room.
By Jenny McNeely
[boilerplate bytitle="Standard"]