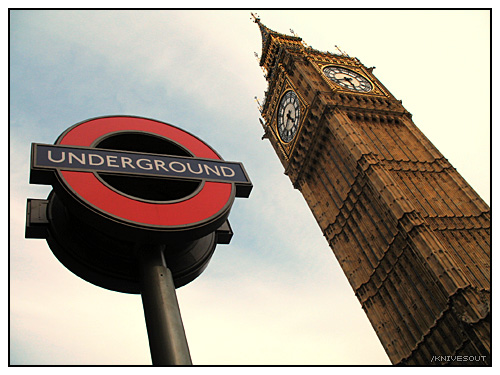 (photo of Big Ben and Underground courtesy of
knivesout
)
One of my favourite city destinations in the world is without a doubt London. I've been there a handful of times, and each visit has exceeded my expectations.
What draws me to the city is its vastness, and the constantly changing dynamics and districts. It's like you get a visit of dozens of countries, cities and cultures, all in one place. 
One great way I like to explore London is to get a one-day travel card for "the Tube," grab a pocket map, and simply take the Tube to any random station, get off, and then walk around and explore this new district. Repeat as many times as you wish. The London Underground does service 270 stops, so you can do this all day and still only see a small fraction of the city. (or as long as your tired legs can hold up to all the walking) 
You can also use the Underground to take you to many of the cities most popular destinations. Westminster Abbey, The Tower of London, Buckingham Palace, St. Paul's Cathedral, and Trafalgar Square to name only a few. I also enjoy visiting the West Fulham district, home to many great restaurants and cafés, along with the home stadium of the Chelsea Football Club.
Another great thing about London is how unique and different each district is in the city. You can spend days, weeks or even months exploring London and it doesn't get boring, as your surroundings are constantly changing. It's as diverse and vast a city as you will find anywhere on the globe. I can't wait for my next trip there.