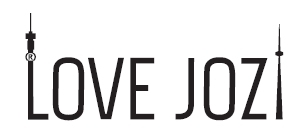 Inspired by Jo'burg's creative energy and in-your-face attitude, Love Jozi is a South African owned clothing company committed to spreading positive messages about Johannesburg through its trendy, sometimes controversial t-shirts.
Oh-so-cool, and available in limited quantities, Luv Jozi's range of t-shirts take negative stereotypes, social issues, and  iconic symbols typically associated with Johannesburg and turn them into wearable art tee's coveted globally by fashionistas and ex-pats. Designed for trendy individuals who're unafraid to express an opinion, or want to make a fashion statement, Love Jozi t-shirts are an outward expression of the Jozi attitude to life: edgy, in-your-face, and inspired by Africa.
The 99% SA-made clothing label produces 3 ranges of Jozi tee-shirts.
Sizes range from small to XXL, and are mostly unisex, with a few ladies-only designs depending on the range. All Love Jozi tees are a blend of pure cotton, or cotton-lycra combination.
Love Jozi is a t-shirt label with an emphasis on design and conceptual ideas. Two new, limited edition ranges are produced a year in short print runs and are available through selected outlets, like Black Coffee at Arts on Main or Bamboo Centre.
The most popular graphics from the Luv Jozi ranges are printed on a regular fitting t-shirt and sold under this label. Large print runs are sold through mainstream outlets like Big Blue or Sowearto.
Ifthetshirtfitswearit are vintage-inspired tee's featuring contentious or iconic global-meets-South Africa slogans and graphics are printed on a unisex slim fitting t-shirt, and available at mainstream outlets.
Affordable (Love Jozi tees cost less than R200 (under £20, or US$28)), and perfect for lovers of individualistic fashion who love to look good but loathe brand-slaves, Love Jozi lets you be a legend in your own t-shirt, and own a piece of Jozi.