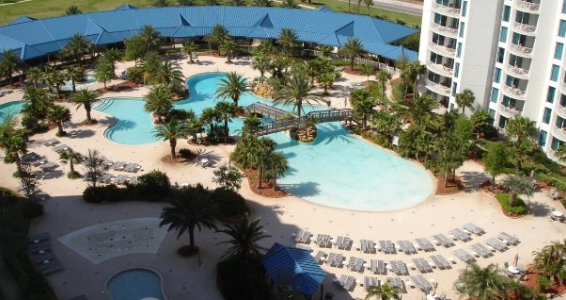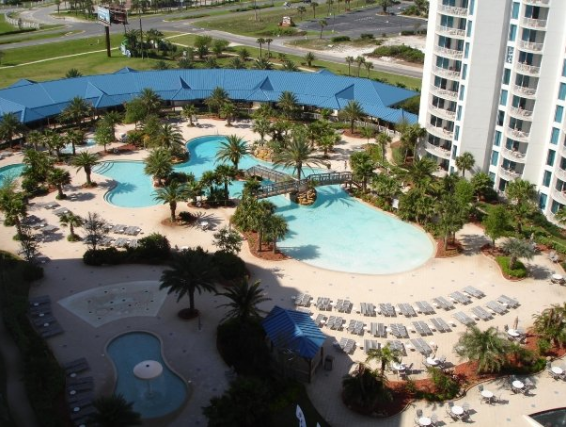 I absolutely love going to the beach!  I don't know what it is, but its relaxing, calming, and makes me slow down in this busy world of ours.  I have been to Destin several times and this is the second time I have stayed at this place and it is absolutely AMAZING.
If you ever plan on traveling over to Destin Florida, look into staying at Palms of Destin.  It is comprised of different junior suites, 1 bedroom, 2 bedroom, and 3 bedroom condos.  I have stayed in the 1 bedroom and 3 bedroom condos and they are brand new and very very clean.  The kitchen has all new appliances and there are lounging chairs on the balcony.  You definitely want to ask for a balcony overlooking the pool because of this great view, especially at night!
You can call the Palms of Destin directly and book a room through them because it actually works just like a regular hotel.  However, I have personally had greater experience booking through different owners that owns some of their own condo units.  During different times and calling different owners, I was able to get a much better rate for the same type of room!  You get the same services as you do if you were to book directly with the hotel.  The hotel also has a free shuttle that will take you directly to the beach across the street.  Oh, and if you do ever stop by, the restaurant that is right next to the pool has the Best Chicken Mushroom Ever!

for the best flight deals to anywhere in Florida!