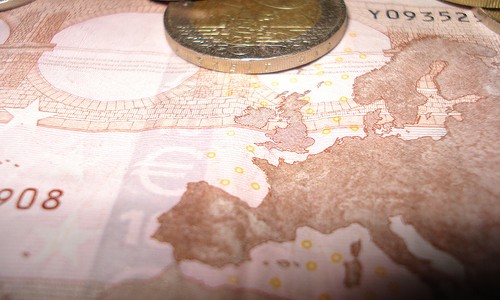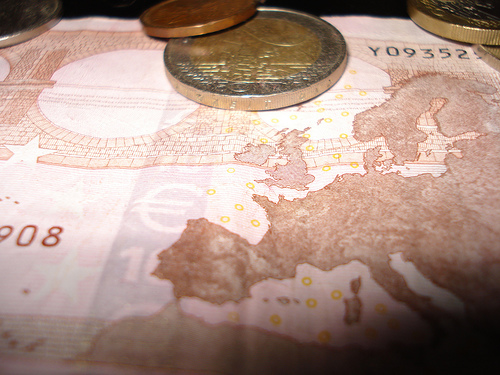 Did you know that you can save on paying taxes when shopping for all luxury items in EU countries?  No? Well, I didn't either until recently.  I am going to try to give you the step by step procedure on how to achieve this!
First off, depending on what you are looking to purchase, you can go to the location that actually manufactures the luxury brand.  For example, you can go to London to purchase Burberry, Paris for Louis Vuitton and LongChamp (although LongChamp can also be purchased at a discount at Brussels), etc… By going to the place where its manufactured, you are already getting a discount than purchasing it from where you normally would…in my case, in the United States.
Make sure you bring your passport when you go shop at the stores, whichever ones you decide to go to.  Oh, and make sure you are prepared to wait in line…the line…is very long.  Once you get in, there are gazillion people waiting to help you out with your purchase.  There is a limit on how many items you can purchase, because as you can imagine, they do not want you to purchase in bulk and then sell it after the discount.  Once you decide and is ready for purchase, they will register the items under your passport.  You pay, and they will charge you the sales tax at the store, but then will give you a piece of paper that looks like this.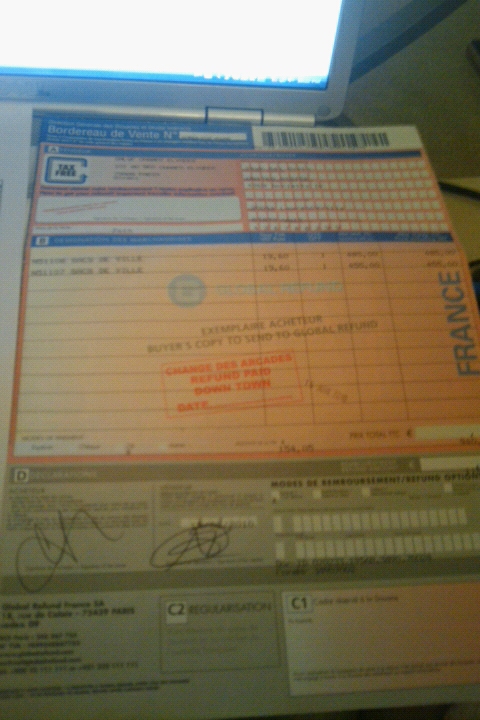 Because you are from another country, you are entitled to the tax free program they have.  With this piece of paper that they give you, they will tell you to take it to the airport.  At the airport, ask to locate the place you go for the tax free program (not the duty free shops).  You take this piece of paper to that area and they will put a stamp on it.
Once they stamp it, you have two options.  They will ask you if you want cash right then and there, or if you want it to go on your credit card.  If you want to take cash then, they will give you the cash in Euros and get your credit card information.  You will have between 3 to 6 months as your deadline to mail in the paper with the stamp on it to the designated place.  Once they receive it, it is all taken care of.  However, if you failed to mail it in by the due date.  They will charge the tax back on your credit card.
If you like the second option and would prefer to have the tax be put back on your credit card, you will do the same thing and mail in the paper with the stamp on it.  And it will approximately 2 to 5 weeks for it to refund back to your card.  This is all a little bit detailed and a much longer shopping process, but overall after this hard work, I saved approximately $160 USD on my item!  Well Worth It so take advantage of it if you're going!!!
On a side note, if you just happen to be in Paris, all the museums there are free to get into on the first Sunday of every month!
Luxury Travel Deals
Travesse is a members-only travel club offering exclusive access to private sales of luxury holidays, hotels and city breaks, all hand-selected by their team of experts.
Find out more about luxury hotel deals in Europe and beyond.