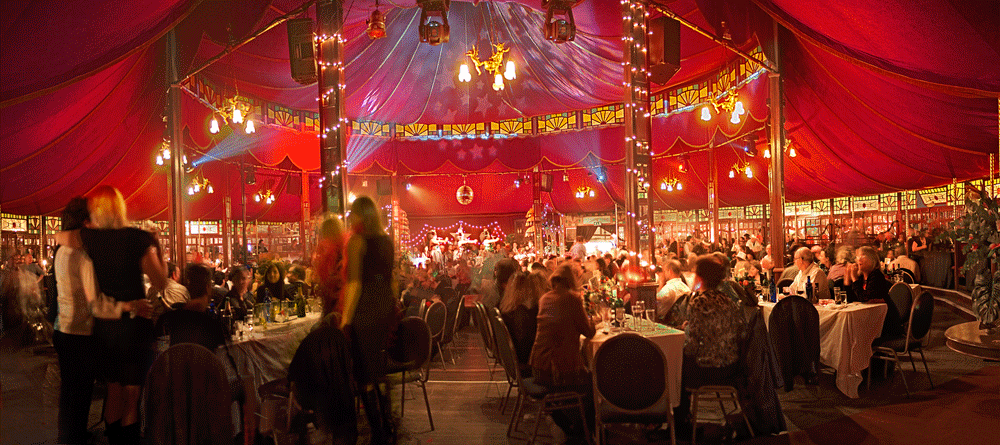 Photo: Madame Zingara
When I moved to Cape Town three years ago, there were stories circulating about this amazing place called Madame Zingara – apparently it was a one-of-a-kind restaurant that served chocolate chilli steak (what the?) and had some spectacular circus performers that put on a show while you ate. It sounded amazing. It had recently burned down.
I drove past the shell of the building in the city centre quite often, and wondered what it had been like – what the show was like, if it was really as magical as it sounded, what on earth a steak doused in chocolate would taste like.
A few weeks ago, I finally had the chance to find out.
You see, after a stint overseas, Madame Zingara is back. In Cape Town. In a giant, mirrored tent from the 1920s, right next to Canal Walk. And I have to say, the night I spent there was one of my favourite nights in Cape Town. It turns out the rumours are true – it is an absolutely magical night.
For starters, as soon as you arrive you feel as if you've stepped into an alternate reality. One where it is perfectly normal for large men to be dressed as slutty women, one where ladies on stilts walk around casually sipping champagne, and you can get a tattoo in the shanty town outside the tent (only temporary – the Madame Zingarians are obviously only too aware of how a night of suspended reality could cause some guests to do something they later regretted!)
The show itself is spectacular. There's really no other word for it. Comedians, singers, amazing acrobats, a hula hoop lady who spun twenty hula hoops at one time (!), a roller skating duo that very nearly killed each other (as far as I was concerned – who knew roller skates could be so dangerous?!) and all manner of other acts kept the audience in a near-constant state of amazement. In between acts, the delicious four-course meal was served, including the famous chocolate chilli steak, which was just as delicious as I had hoped.
What's difficult to convey in words, though, is the sense of excitement and exhilaration you feel as soon as you step into the tent. It's partly because all the people who work there are fired up – dressed up, singing along, thrilled to be there. But it's also the sheer excitement of being taken out of real life for an evening. It's like going to a really good movie – only longer, more thrilling, and with much, much better costumes.
To find out more about the magical Madame Zingara, you can visit their website.
The tour that runs till the end of the year is the Love Magic Tour, and it couldn't be better named: you will love it, it is magic.
[boilerplate bytitle="Standard"]