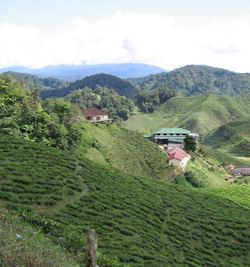 Cameron Highlands is a hilly resort, located roughly 200 kilometres from Kuala Lumpur, Malaysia's capi.jpgtal.  
The highlands are a popular weekend retreat from people from 'KL', and foreigners flock to the area to take advantage of the trekking and hiking.
Just a hundred metres or so from the town centre, begin marked trails for hiking enthusiasts. In the town center, you can pi.jpgck up a map of the marked trails, and be sure to take a compass, water and other necessities with you. 
The trek to Gunung Brinching, with a peak of close to 2000m, is a popular hike along 'Trail #1'.  Be sure to budget much more time than you think is required; at times the various paths can become a little confusing, and it is likely you may need some extra time to find your way. Trekking guides are available in the town, but are not mandatory.
The area is surrounded by rolling terrain, dense forests and tea plantations as far as the eye can see. I strongly recommend a visit to the Boh Tea Plantation, Malaysia's largest tea company, where you should sit on the veranda, enjoy a fresh cup of tea, and soak up the spectacular view across the highlands.
There are a variety of accommodations in the town to suit literally any budget, with rooms ranging from 40 to 2,300 ZAR a night. The town is filled with a variety of Chinese, Indian and Malay restaurants, all within close proximity to the hotels.
Cameron Highlands truly is a lovely place to visit – one of those special places to travel, slightly off the beaten path, where most who are fortunate to visit have a wonderful experience.