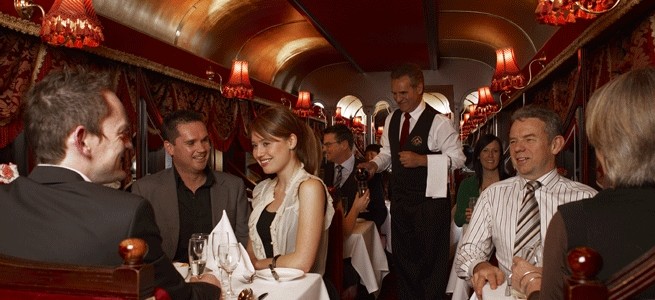 If you're ever in Melbourne, whether it's on holiday or visiting family an experience not to be missed is the Colonial Tramcar Restaurant. Most cities all over the developed and even developing world have had trams at one point or another, many still have them, Melbourne is one of the latter, with an extensive network of modern trams all over the city. The Colonial Tramcar takes one back to an earlier age when the trams were first implemented in Melbourne for an unforgettable evening of fine dining.
The Tramcar leaves at 1pm for lunch, 5:45 for early dinner and 8:35 for late dinner from Normanby Road, South Melbourne, from there you'll be ferried through the streets of South Melbourne, St Kilda, Prahran & Malvern in classic luxury. You'll be treated to a 4 course meal on the lunch tram, 3 courses for early dinner and 5 courses for a relaxing late dinner; all drinks (wine, beer, spirits, soft drinks, tea & coffee) are included in the price of the trip too which starts from AUD77 (about ZAR500).
The food is regularly praised as well as the hospitality and old world decor. The Tramcar is air conditioned for those hot summer months and heated for the chilly Southern Australian winter evenings. It's essential to book in advance, especially in busy seasons and weekends to avoid disappointment.
Don't just take my word for it, check out some of the reviews out there and read more about it on the Colonial Tramcar Restaurant website.
You can contact the Colonial Tramcar Restaurant on:
Telephone +61 3 9696 4000
Facsimile +61 3 9696 3787
Email reservations@tramrestaurant.com.au
[boilerplate bytitle="Standard"]