What is scarier (and more entertaining) than a superfast car? 6 Chevrolet Sparks playing soccer!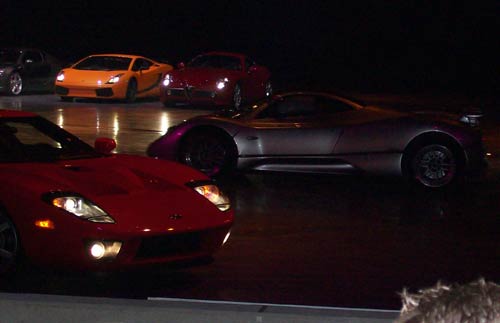 MPH 2008 was co-hosted by Sasha Martinengo, Mark Hammond and Mr Top Gear himself, Jeremy Clarkson at the Dome in Johannesburg.
The show started with Sasha & Jeremy driving in with sleek sportscars. (Don't ask me what they all were, I'm not really into cars!) I do remember the Fiat Panda (I think), as I was wondering if my shoes would even fit in the boot.
2 Toyota Auris' did a bit of a ballroom dance; Renault had 3 Meganes & 2 Clio 3s doing some fast driving while avoiding fender benders. The MPH stunt drivers do know their stuff!
BP Ultimate was one of the sponsors and had quite an entertaining pi.jpgece with 2 Chevrolet Luminas chasing a Volkswagen and cornering it. The VW escapes and races back as a sooped up version running on BP Ultimate, scaring the Luminas away.
Chevrolet had their SS Utility bakkie play the bull in a mock bullfight with a female matador. The SS had red lights and horns on top and sounded like a very angry bull. The "bull" got speared by the matador, but didn't die and cornered the matador.
I must admit that maybe I'm biased when it comes to the Chevy Sparks (as I drive one), but I loved the little soccer playing cars… they are so small and feisty!