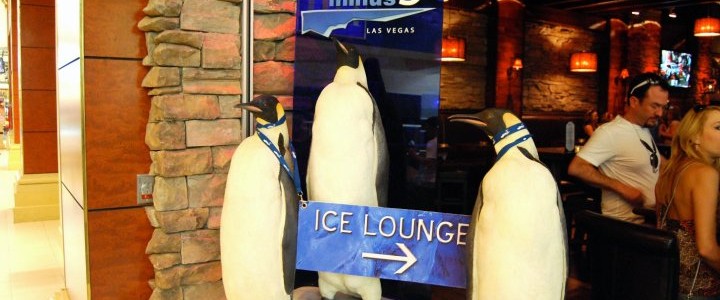 I recently had a long layover in oh so fabulous Las Vegas.  My friends and I were browsing around the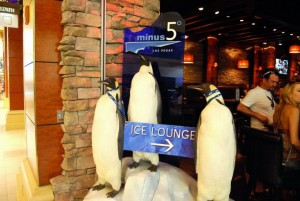 hotels and stumbled upon this really cool place!  No, really, it's literally really "cool".   ^_^
Minus 5 Ice Lounge is located inside Mandalay Bay Resort and Casino.  Its basically a bar where you can hang out with your friends, relax, and drink.  The difference between this and a regular bar is that everything in this ice bar is…you guess it….ICE!  The walls, the bar, sculptures, your glasses that holds your drink, and even the seat itself is made with ice imported from New Zealand.
In order to keep the ice from melting, the lounge is of course going to be kept cooold.  So in order for you to enter the lounge,  you will need gears to keep you warm inside the ice lounge (insulated jackets, boots, and gloves).  Before you get scared off thinking this sounds like an expensive thing to do, let me tell you what I found on the brochure.  It's really not that bad for something totally different!
Their entry prices are listed below. Every package consists of a drink which is one of their signature vodka-based cocktails along with all of the gear.
·         $25 for Entry includes 1 drink
·         $35 for Entry includes 2 drinks
·         Add $20 to any package for a fur upgrade.
·         $70 package includes, Entry plus 2 drinks, fur upgrade, single 5×7 photo, as well as a Russian hat as souvenir.
single 5×7 photo?  Yep, they have their own photographer that walks around inside the lounge to snap a photo of you and your friends!  And when you leave the lounge, you can choose the photos that you want or just take a glance at them for fun.  Don't you want to show everyone a photo of you sitting on an ice bar?
If you are going to be in Sin City Las Vegas, this is definitely not to be missed!  The question is, how long do you think you can actually last inside this icy cold lounge?  =P
[boilerplate bytitle="Standard"]