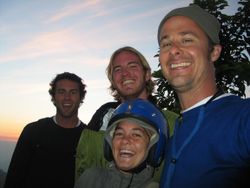 I had been told by many that the best way to experience Northern Thailand was on a motorbike.
So a few years ago, I recruited a biker gang (OK, there was only 4 of us), and we toured Northern Thailand on motorbikes for a week. 
We started from Chiang Mai, Thailand's 2nd largest city after Bangkok, where we rented motorbikes from a friendly merchant who said "return anytime, pay later."  Perfect. See you "anytime" I thought.  
Our first stop on the trip was Pai, a small town of about 2,000 people, and a little bit off the tourist track. (it's apparently become much more popular since 2005) We spent a couple days there, enjoying the laid-back atmosphere, comfortable accommodations, and touring the countryside on motorbike by day.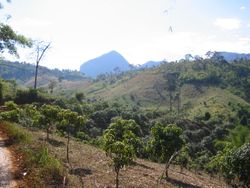 We then left Pai and headed for Soppong, which was just a few hours away, where we spent a day exploring the very small town and eating some interesting traditional dishes. 
From there we continued to Mae Hong Song, the most northwestern city in Thailand. It's nestled between lush forests and surrounding mountains, while being just across the border from Myanmar. Mae Hong Song means The City of Three Mists, and the city is covered in mist throughout much of the year. It's one of the most beautiful, and isolated places I have ever been, and we spent a couple days there getting to know the locals, and exploring the surrounding areas. 
From Mae Hong Song, we started our retreat to Chiang Mai, taking a couple days to slowly make our way back. We alternated between enjoying the open road, making good time as we sped across the rolling terrain, and moving slowly, stoppi.jpgng in small villages to absorb our environment.  It was a trip that I will never forget. 
If you have the opportunity, I strongly recommend touring around Northern Thailand on motorbike. The number of routes you can create are endless, and it's one of the most beautiful place I have seen.