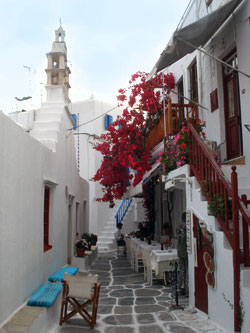 In the early 80's my father took a trip with my mother to Greece and Turkey, a trip he planned with some trepi.jpgdation as he had heard mixed reports on his chosen destination. He planned a sort of ad-hoc holiday spending time hoppi.jpgng from island to island, sleepi.jpgng on ferries and circumnavigating each one he visited by hiring scooters and knocking on the doors of local villages to find somewhere to sleep.
After months of planning (as is his way, even for this rather backpacker-ish type holiday) they left me with my grandparents and set off for a six week jaunt to this far away land of sea, sun and intrigue. For a young child (as I was in those days), the 6 weeks without them was so long that I had forgotten who they were when they returned; I no longer recognised the strange long-haired and tanned people who stepped off the plane and spent the rest of the day trying to hide from them in the pleats of my grandmother's skirt.
All throughout my childhood, the evidence of how amazing their holiday was, was evident, from the many stories of the strange places they visited like Santorini, Mykonos and Istanbul to the anecdotal tales of nights spent sippi.jpgng Ouzo, Retsina and Raki, to the undeniable evidence of "fun in the sun" – my baby brother being born about 8 months after they arrived back! All of this set in my mind the desire to visit these fascinating countries, and in the mind of my father, to return to them one day.
Finally, in 2008, we set plans in motion to begin this voyage for the May and June of 2009. This time though, it was not to be the same kind of eclectic, happy-go-lucky style of trip, my parents are now in their 60's and have become accustomed to some sort of comforts in their lives. We decided to do some of the trip ourselves, but to rely on a cruise ship to take us around the Islands and Trafalgar Tours to do the coach tour of Turkey – which, I must add, was excellent value for money and enhanced our travelling experience so much, I would recommend it to anybody in a heartbeat.
Watch out for my next installment.