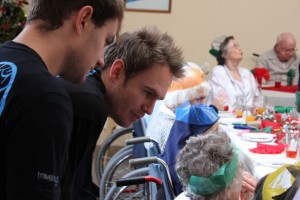 Christmas is a time of giving…The most precious gift you can give someone is time – your time, a listening ear, a helping hand, a loving heart.
This year the Travelstart Angels decided to spread some Christmas Cheer at Nazareth House in Vredehoek, where we held a lunch party for their Elderly residents.
Between three of us, after some late night cooking (and praying) we managed to make more-than-enough food for 40 adults. The following morning, Saturday, 11 December 2010, we rushed out to get a few last-minute things, including the pudding, before heading out to Nazareth House.
Upon arrival, we were overwhelmed by what we found waiting for us in the entertainment room. Sister Veronica had decorated the entire room as well as all the tables for us – this naturally brought tears to Diana's eyes! After we placed all the gifts under the tree, we promptly got to work, warming all the food while our fellow Travelstarters (or Christmas elves) arrived…
Some of our guests arrived early, wanting to get a 'good seat', providing the opportunity for all to get better acquainted. Everyone seemed to have a lovely time together, sharing stories and singing Carols.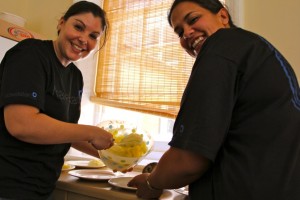 At the end of the day, with the help and support of our fellow Travelstarters, their contributions and a lot of preparation by the Angels, we managed to pull off a great party! The Elderly, who are so often forgotten, were truly appreciative.
I would like to extend a very special 'thank you' to all our angels at Travelstart for their caring, giving nature. We honestly feel blessed to work with such outstanding people.
Yours in the Spirit of Christmas,
The Travelstart Angels