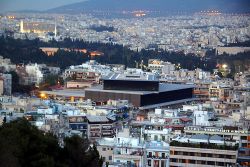 This past weekend, (June 20 specifically) the
New Acropolis Museum
opened in
Athens, Greece
. 
The new museum has been built at the foot of the Acropolis, and is located just a mere 400 metre walk from the Parthenon, the 2,500 year old ancient greek temple. The museum is the new home to many of the Greek world's 
archaeological findings and 

ancient relics, that were found around the Acropolis site. The unique design of the new museum allows visitors to peer through glass floors into the foundations, which reveal an ancient neighborhood of ancient Athens. 
The Old Acropolis Museum was built in 1874, and closed in June 2007, so that her antiques could be transferred (slowly) to the new museum. The transfer was apparently a difficult process, Due to the limited size of the Old Museum, the Greek Government decided in the 1980's that it will build a new, larger museum.
Entrance to the museum will be a nominal €1 for the first year; €5 thereafter.  
The new Acropolis Museum is also featured on a commemorative Euro coin: the €10 Greek Acropolis Museum commemorative coin, minted in 2008 to mark the Museum's relocation.