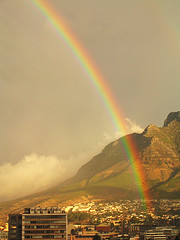 And the other..
Originally uploaded by *spo0ky*.
OK, so you might not think that new regulations imposed by the Association of South African Travel Agents and the Advertising Standards Authority are very exciting,,, but we certainly welcome the new transparency that they bring.
Basically, the new regulations oblige travel agents to advertise airfares using one figure that includes VAT, fuel levies, airport, aviation and security taxes as well as government imposed taxes, agent service fees and any other costs attached to the purchase of a flight ticket.
We're big believers in transparency so we already display the full and final price you pay, and show you a breakdown of taxes before you book your ticket or hotel. That way there is no confusion.
As Stephan put it,
"When you go to the supermarket to buy a loaf of bread, you expect VAT and the rent for their premises to be included in the price. It is now the same for airlines."
If you're wondering what this photo has to do with new regulations, the answer is simple – nothing,,, it's just something pretty to look at if you aren't interested in the post 🙂