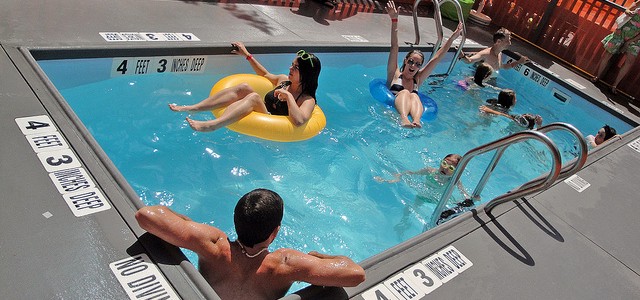 In between meetings? On your way to lunch? Why not stop for a quick dip in the dumpster? Starting this weekend, New York City's Grand Central Station will feature three never-been-used trash containers that have been transformed into code-compliant swimming pools, equipped with their own lifeguards, decks, cabanas, changing rooms and lounge chairs.
The pools are part of the city's Department of Transportation program, Summer Streets, in it's third year, which shuts down stretches of Park Avenue and connecting streets to motor vehicles and turns them into adult-friendly playgrounds.
Some other highlights of this year's car-free festival include:
FringeNYTEASERS
Enjoy short snippets of plays in Soho throughout the month of August, presented The New York International Fringe Festival. For the kids, FringeJR will feature family-friendly theater shorts as well as interactive activities.
Plant & Picnic
Stake out your spot in a designated picnicking area on 24th and Park and get edible gardening lessons from the New York Botanical Garden. Plant seeds at the potting station and take home your fresh herbs, or watch cooking demonstrations from Whole Foods. While you're on a health kick, walk up one block for free fitness classes by Crunch, including Pilates, martial arts and aerobics.
Joy Ride
For the first three Saturdays in August (I'll be there on the 21st), a group bike ride set to music aims to change the way we see the city. Created by theater artist, Liz Sherman with a soundtrack designed by Grammy-award nominee Duncan Bridgeman, the powerful shared experience ends with a picnic in Central Park.
To find awesome flights to New York go here.
Pop-Up Tennis Courts
Forget dropping a hundred dollars on a private lesson. Pick up tennis tips from members of the New York Junior Tennis League at temporary tennis courts on Park Ave near 25th Street. Equipment included!
[boilerplate bytitle="Standard"]