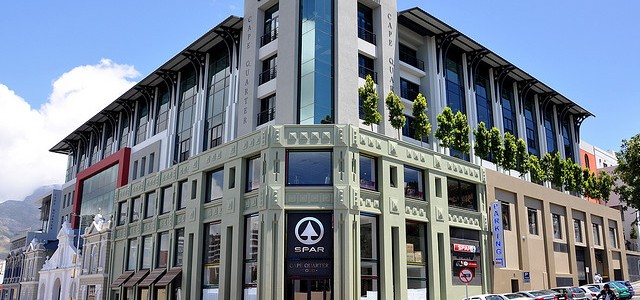 Cape Town has long been known for it's eclectic and vibrant  mix of history, culture and beauty with excellent restaurants, intriguing and unique boutique shops and of course, that mountain. Well, next time you're in the city and looking for a place to splash out in style, head out to the New Cape Quarter (across the road from the Old Cape Quarter) in de Waterkant.
Set in one of Cape Town's oldest neighbourhoods, amidst the colourfully refurbished old slave houses, synonymous with Cape Malay culture, the centre is easily accessible from the busy Somerset Road which it borders. It has loads of undercover parking and is also right on the "fan walk" from the centre of town to Greenpoint stadium, so even if you're out for a stroll, it's very easy to reach.
The centre has managed to mix it's glamourously styled modern architecture into the existing slate-stone walls and Victorian facades of the former buildings on the site. Many of the stores still bear evidence of the existing roof trusses and walls which have been left bare and make for a striking contrast to the contemporary feel of much of the building.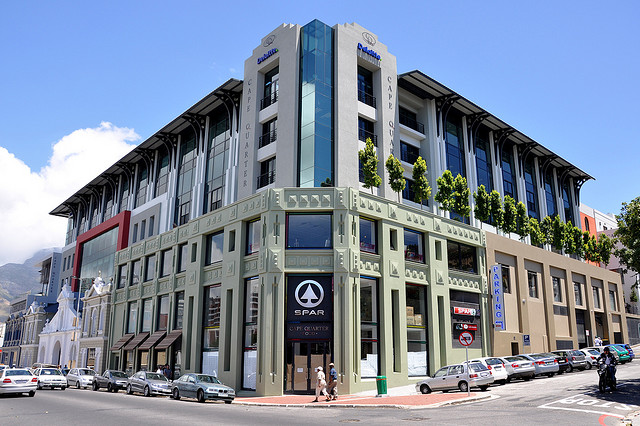 One of the centrepieces of the New Cape Quarter is the fabulous Spar, this is not the KwikSpar type of store you may be imagining, it's a decadent and fully kitted-out luxury outlet – complete with all the regular essentials as well. Whether it's pomegranates, imported chocolate or just plain home-grown South African beef you're after, you'll find it here.
Another of those centrepieces is the square which is lined with excellent restaurants, one of my favourites being Kuzina, a fantastic Greek eatery with everything traditional you might expect on such a menu – but cooked to absolute perfection. Another is Vanilla which does great simple, yet delicious meals in a relaxed setting; oh and I have also enjoyed a few glasses of wine at Cru Cafe which has one of the most extensive wine-lists around.
At the back of the centre you can grab a stunning breakfast or lunch at Lazari, it has long been a Cape Town institution with the original one being set in a leafy street in Vredehoek. Famed for it's excellent baked goods and funky interior decor, this new version of the cafe definitely doesn't disappoint!
Now, I am passionate about food, so for me, this is life, but if your passions also lie elsewhere, the New Cape Quarter also boasts an impressive range of jewelry stores, art galleries and clothing boutiques for young and old alike. But one store really stands out for me, it's the incredibly stylish OKHA interior decor and furniture showroom by Stefan Antoni. It's filled with loads of examples of home-grown designs which grace only the most luxurious of homes in Camps Bay, Clifton and Fresnaye – definitely worth a browse, even if only to gawk at the prices!
Next time you're down in Cape Town, swing by the Cape Quarter for a true look into Cape Town's decadence and style, it may just inspire you to stay. More info can be found on their website.
For flights to Cape Town:

Picture from FoxyCoxy