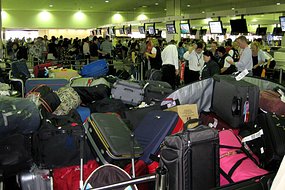 (photo: AAP: Vincent Morello)
So one of the great pre-trip adventures that everyone  endures is the act of packing.
You've planned your great journey, you've got plane  tickets, train tickets, boat tickets, accommodation,  you'll be visiting the elephants in Thailand or skiing in the French Alps and you're all set… but wait?… for all these journeys and adventures, how do you pack for them?
I've just finished being away for about 3 months with work all around the east coast of Australia so have once again lived out of a suitcase. Strangely enough, I've now been back in Melbourne for around 6 weeks and only just thought to get my stuff out of storage.
For me, the art of packing is deeply personal and there's a few stereotypes out there… let's look at a few of them…
The Backpacker


Arguably the most identifiable traveller, typically an 18-30 year old male or female who's take

n off around Asia, Europe or Africa with all their worldly possessions strapped to their back.They know they'll only be wearing 3 different changes of clothes for the next 11 months and they're ok with that. They know they'll be washing their clothes in a hostel sink and they're ok with that. They know they'll probably end up buying nearly everything they need en-route and they're ok with that. These people can't afford the Hilton.

The No Packer


This traveller is usually on a great elusive journey (ala "Into the wild" style)

or they're a trekker. The No-Paker usually has maybe 1 bag (maybe) and its usually no bigger than a school backpack. It might hold 1 change of clothes or a first aid kit, maybe the necessary items to start a fire or pitch a tent. These people don't stay at the Hilton.
The Over Packer


This person maybe just starting out in their travelling career – maybe they haven't done alot of independent travel or maybe they're travelling with a family. Either way, they're packing as though they're never seeing civilisation again. If the kitchen sink had wheels and a handle to roll it though the departure lounge, they'd be on their way…



The Life Packer
The life packer is a traveller who takes a little from column A and a little from column B. They have enough of a variety of clothes to take them where they need to go as well as enough supplies to make it 

safely on their journey but they have the understanding, that anything can actually be found anywhere on earth.

A moderate packer – lightly prepared for everything, not really prepared for anything.
Each packer has their place and there are many, many other stereotypes out there. So which one are you?
I'll be starting preparations for my journey overland from Hong Kong to London shortly and so will be facing packing challenges of my own. Any great packing advice is appreciated. Which packer are you?